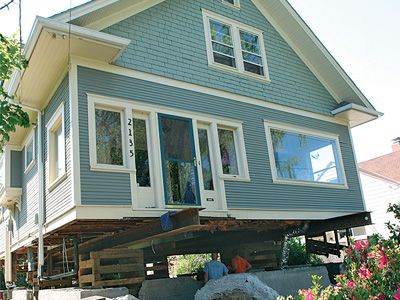 The design is done and the clients are ready to see things happen but you still have a lot to plan and do before kicking off a remodeling project. Here are seven basic practices for the pre-construction phase that I live by:
Rule One: Client Care and Manage Expectations
Sure, your clients are excited to see your crew the first day you start a project but you're smiling face at 7 a.m. will wear thin after a week or two if you don't follow some basic rules to manage client expectations throughout the course of a remodeling project.
Have a pre-construction meeting with your clients just to address the mechanics of the remodeling process and their lifestyle.
Establish a regular start time and quitting time, and respect their privacy.
Draw a sine wave on a piece of paper to illustrate the typical client mood level during a project. The crest at the outset turns downward toward the middle of the project and only rises when the clients can see the project coming to a close.  Being up front about the issue often levels out the trough.
Set up a process for clear lines of communication whether it's scheduled weekly meetings or periodic 'check up' calls.  Festering frustration can lead to a remodeling nightmare for you and your clients.  And whatever you do, don't disable both bathrooms at the same time.
Finally, do what you can to lessen the impact of a building project on your clients'  lifestyle. For example, if you're project involves a kitchen remodel, make arrangements for a temporary kitchen in an extra room, garage or basement when theirs won't be serviceable.
Rule Two: Keep it Clean
I get more referrals based on cleanliness than any other qualification. Clean matters; plan for it from the get-go.  You can figure out what you'll need to do to manage dust, clutter, and debris – the important thing is that you leave your clients' home clean every day. For ideas read Protecting A House During Construction or browse the complete list of articles on job-site cleaning.
The biggest challenge may be managing subcontractor cleanliness. I have one sub who is a disaster, but his prices are good and workmanship is outstanding. So I budget for someone to clean up after him. Also, make it as easy as possible for subcontractors to be clean. Have supplies (plastic, drop cloths, tape, rags) and equipment (exhaust fans, vacuums, brooms) and a waste management plan ready so subs have no excuse.
And budget for a professional cleaning crew to service the whole house when you punch out the job.
Rule Three: Set Up a Staging Area
Materials in, debris out; trucks to park and tools to store – plan a staging area or areas with the clients before day one. Don't expect them to give up a garage bay to store finish lumber on the last minute in the middle of winter.
Temporary storage such as moving containers, fabric garage structures, construction trailers and even the garage (if you agree ahead of time) are all viable options. Another idea is this Knock-Down Shop that can be assembled and disassembled in minutes.
And when it comes to parking, don't just think about your clients, consider their neighbors. They're potential clients that you want to keep happy during the project too.
Rule Four: Order Early
You'd think with the housing downturn that material dealers and manufactures would be ready to wait on you hand and foot. Well they tightened their belts too. That sometimes means cutting back inventory and just-in-time delivery.
Whether it's roof shingles, prefinished hardwood flooring, plumbing fixtures or kitchen cabinets, make sure you give suppliers plenty of lead time or your work schedule may go bust.
Rule Five: Be Lead Ready
If your clients' home was built before 1978 you have EPA rules to follow (read the details here). Your company needs to be registered and someone on your crew needs to be trained and licensed by the EPA if you're going to be disturbing interior or exterior surfaces with lead paint. There are still a few details the EPA is working out on exclusions but better safe than sorry. Get registered and licensed and then follow safe lead work practices on the job.
Stop grumbling and get on board; I've made lead-safe work practices a selling point for several years. There are going to be lots of remodelers who don't follow the rules. You can educate clients and knock other contractors off the bid list.
Test-in, test-out.  Have an independent lead inspector test the house for lead paint and identify precise locations before starting work (and preferably before negotiating a price for the job). Often there's no lead paint present or it's only located in a few spots. Knowing this up-front simplifies the work practices.
After the cleaning crew departs and before you submit your final bill, have the lead inspector back for a clearance test to make sure there's no lead contamination. Give your clients documentation of the pre- and post-construction tests and keep a copy for your records – the EPA may come looking.
For more on this topic, read Tom O'Brien's article, Lead-Paint Safety: At Home and On the Job.
Rule Six: Protect Your Clients' Best Interests
Here's where your experience as a remodeler pays dividends for the homeowner. Unless you've been intimately involved during the design process there are likely many places where elements of the project can be tweaked for efficiency: material efficiency, labor efficiency and project management efficiency.
And it can't hurt to speak up if you see some glaring flaw – like the drawer that'll clip the front of the dishwasher on the inside corner of the kitchen.
Rule Seven: Energy Efficiency Upgrade?  Think Combustion Safety!
When a remodel includes new windows, insulation or air sealing you should always err on the side of safety. Before any improvements have a BPI-certified building analyst conduct a combustion appliance safety test to determine if there are any pre-existing safety concerns. Then, after the work is done, have the analyst test-out to ensure the heating appliances have enough combustion air and won't spill gasses or backdraft when exhaust fans are turned on.
Other remodeling components that can impact combustion safety include: central vacuums, powerful cooktop exhaust fans or bathroom exhaust fans, and basement finishing of any sort.
When in doubt, install ducted make-up air supply directly to the combustion appliances. Or better yet, make a HVAC upgrade part of the project and install high efficiency, sealed-combustion appliances.