Tools & Materials
Tool Test: Oscillating Multitools
Fein dominated the market for decades, but their patent has expired. With competitors on the move, just how do the new tools stack up?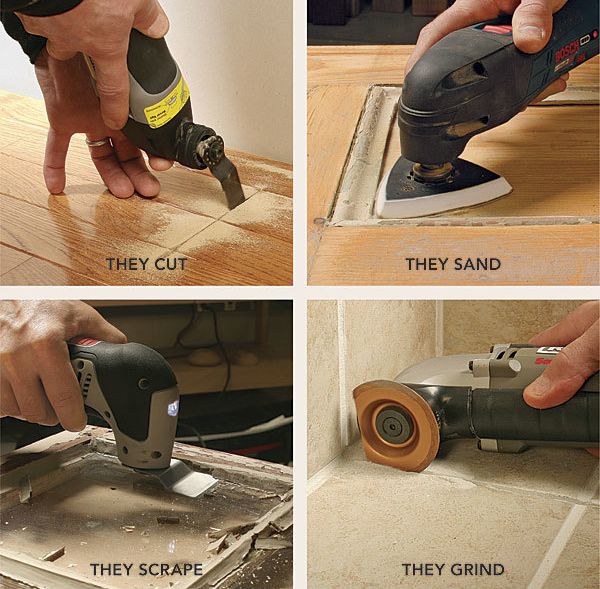 Synopsis: In the decades when Fein's patent on the MultiMaster was in effect, the company had a lock on the oscillating multitool market. But that patent has expired, and now other companies are promoting their own models. Brent Benner, a finish carpenter and cabinetmaker, put five of these tools to the test. He concludes that the MultiMaster remains the best overall. However, this performance comes at a price, and models made by Dremel and Rockwell provide decent performance at a much lower cost. Benner also tested two cordless tools, made by Bosch and Craftsman, but found that their convenience didn't make up for their shortcomings. In a sidebar, he takes a detailed look at the types of attachments that come with these multitools, as well as their cost.
A couple of years ago, I was installing interior trim on a new home when a heated discussion between the general contractor and the electrician spilled over into my workspace. It seemed that the rough wiring was in place for some exterior lights, but nobody had asked the siding crew to install the necessary cedar mounting blocks. The siding crew had finished months ago, and the electrician argued that it wasn't in his contract to spend hours cutting the dozen or so mounting blocks into the cedar with a utility knife and a Japanese saw. The general contractor argued that the siding crew was not coming back. There was an awkward silence as they both looked at me to take sides. I said, "You're both right. Why don't you borrow my MultiMaster?"
Oscillating multitools are a fairly unconventional category of power tools. Although they cut, sand, and grind, they won't replace your jigsaw, reciprocating saw, circular saw, orbital sander, or angle grinder. They're also not made to cut and prepare new stock for installation. To create a departure from the typical spinning sawblade, Fein engineered the tool to oscillate an attached accessory a few degrees left to right about 20,000 times per minute. This minimal blade movement makes an oscillating multitool an excellent choice for working on materials that are fixed in place, especially in tight quarters where other tools are impossible to use.
I tested each of the five tools in this review based on its performance in a wide variety of remodelling tasks, its ergonomics and ease of use, and my best assumption of its long-term durability. I was also critical of the carrying case included with each tool. In my opinion, any tool with this many small accessories demands functional storage.
There were clear winners in each category, but I found that it was impossible to do a true head-to-head comparison for a number of reasons. Some of these tools are corded, and others are cordless. Some are designed for light use around the house, and others are built for professional use on demanding job sites. Instead, I reported what I like and dislike about each tool, with enough detail that I hope you can decide which tool fits your needs and budget.
The quality of the tool is measured in large part by the quality of its attachments
Oscillating multi tools offer a selection of accessories that allow the tools to adapt to different applications. With different accessories, these tools remove grout, sand inside corners, and scrape adhesive. They are ideal for flush cuts and plunge cuts, and they don't mind if the material is wood, metal, plastic, or drywall. What I like best about these tools is their ability to get you out of a sticky situation.
Unfortunately, the number-one complaint about oscillating multitools seems to be the cost of replacement accessories, which ranges from reasonable to ridiculous. There is a bit of cross-compatibility among brands, but for the most part, each manufacturer has engineered a unique attachment system. When choosing a tool, both the quality and price of replacement blades, scrapers, and sanding pads becomes a definite consideration.
For more photos and details, click the View PDF button below:
View PDF