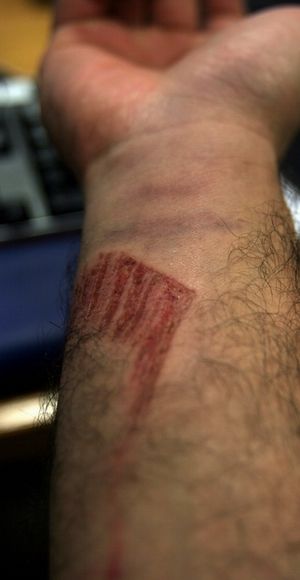 A long time ago I worked with a guy when he was new to the trades. He was the kind of guy who lacked respect for the tools he was using and yet used them with a confidence that displayed about a decade more experience than he actually had. It's scary to be around people like that. Jim illustrated this perfectly one day when we were framing walls. Long story short he shot himself with a coated spike. It ran through the bottom part of his ring finger in such a way that when he opened his hand it turned his finger into an inverted cross. He screamed and flailed for about 15 seconds until he realized it didn't really hurt any longer – it just looked like it should hurt. As I was driving him to the emergency room he began admiring it and remarking that he was amazed it wasn't bleeding. I kept thinking about how hard it is to yank a coated nail from a 2x and hoped the one in his hand wasn't tight up against the bone. While we were at a stop light Jim decided to wave with a smile at the people in the car next to us. They were mortified. I realized that a valuable lesson had just been wasted on him and cringed at the thought of what it would take for him to actually learn it.
That time came a couple of weeks later. One day when he was working on his own he'd grabbed a portable table saw to cut some boards. From what I understand he was crosscutting a 2×6 with the rip fence, not the miter gauge. He severed all 4 of his fingers nearly completely off. In fact I think two were completely severed while the other two were barely hanging on by a tendon. Somehow the guy managed to call 911 (thanks to his cell phone) and miraculously has full use of his hand.
Last summer I was ripping some 1x in my backyard on a portable table saw. The manufacturer, who makes excellent tools, stopped making table saws which I'm glad about. I was borrowing it from a friend and I didn't feel totally comfortable using it; the fence felt flimsy and the on/off button was on the opposite side than I was used to. I got a good lick from that thing thanks to my tentativeness. I used a foot-long 2×2 that was nearby as a push stick. As I was pushing the board through something happened in the split second it took for my eyelids to finish blinking. One second I was pushing the board through the cut, and in the same second my arm was throbbing beside me, the table saw was making an awful noise and out of my periphery I could see the push stick about 10 yards from where I was standing.
I got my wits about me enough to turn the saw off but was really scared to look at my hand. There wasn't any blood but I couldn't feel my fingers at all. I took a deep breath and looked – a nasty gash (a scar from which I still have, 8 months later). The push stick had slipped, hit the blade, ricocheted off of my arm and flew across the lawn. I'm lucky. I was being stupid. I have a healthy respect again for table saws.
What about you? Have you had any accidents or near accidents working with power tools? Hard-learned lessons of how dangerous this work is? If so, please share them so others can hopefully learn the easy way.