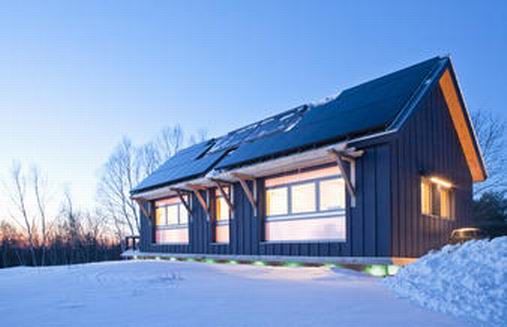 By his own admission, Keith Collins tends to get carried away, or at least that's how I interpreted his remarks. In one of the seminars I attended at the NESEA conference in Boston last week, Collins said that when he set out to build a shed for his riding lawnmower and it turned into a state-of-the-art prototype for a sustainable home, his wife was not surprised. Collins is a physician from Miami who wants his grandchildren to enjoy the same environment that he has. That's the real reason he developed this project, which is called the BrightBuilt Barn.
Designed by Kaplan Thompson Architects and pre-fabricated by Bensonwood Homes, the BrightBuilt Barn prototype sits on Collins' property in Rockport, Maine. It is a one-story, 700 sq. ft. studio with a kitchen and a storage loft. Certified LEED Platinum, the floors, walls and roof are all R-40. It has no furnace. What little heat is needed comes from the evacuated solar thermal tubes on the roof. And the PV array not only provides all the electricity the building uses, it supplies enough additional power that Tedd Benson, principal owner of Bensonwood, refers to it as an "outboard motor" for the main house on the property.
One striking feature of this project is a skirt of LED lights around the outside that glow green when the building is producing more power than it uses and red with the opposite is true. Another light provides the same feedback inside the studio. Tempting as it is to dismiss the lights as a gimmick, direct feedback about energy use is one of the keys to wasting less of the stuff.
The BrightBuilt Barn prototype cost around $300,000, including all of its bells and whistles. The basic structure, however, can be had for under $200,000, and can be configured as a one- or two-bedroom home. Given that all the principals are committed to open source, much more information about this project is available at www.brightbuiltbarn.com, including live data on the building's energy use.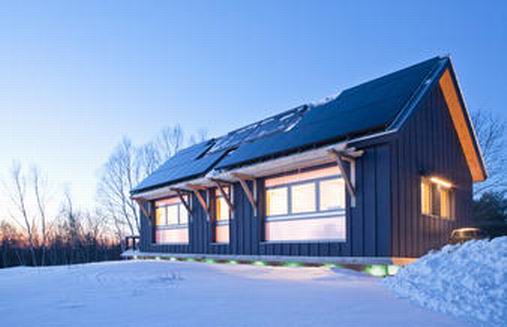 Instant feedback keeps us energy-aware: When the LED lights shine green on the foundation, the barn is producing more energy than it is using. The lights turn red when the opposite is true.