Why Building Science Matters to Builders (and Drinking Birds)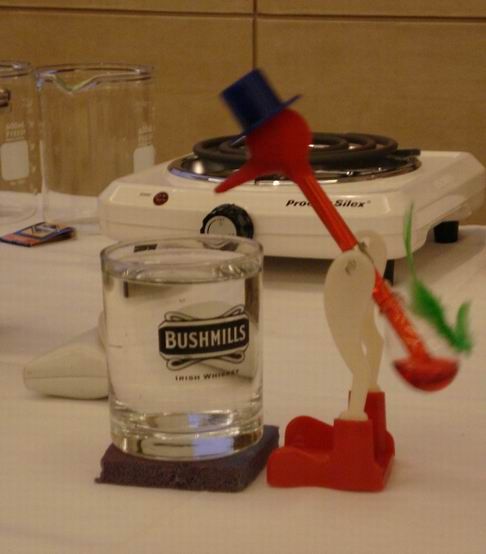 For the last five years, Larry Harmon's "Residential Retrofits for Energy Efficiency and Sustainability" has been the most popular seminar at the NESEA conference. Another journalist might have attended for professional reasons, to see what all the fuss was about. I went hoping for a miracle.
I've spent 20 years on the painstaking renovation of a 200-year-old Cape. And just about the time I finished buttoning everything up inside and out, I realized that I should have doubled the R-values in my floors, walls, and ceilings. I went to Larry's seminar hoping he might tell me about a new product, a miracle paint, maybe, or an insulating shingle, that was cheap, easy to install, and would insulate my house to astonishing levels without disrupting anything. Instead, he talked about building science.
I knew I was in trouble from the outset. The first thing Larry did was to set up Drinking Bird on a table at the front of the room. Drinking Bird is a children's toy, invented in 1945 by a scientist named Miles V. Sullivan to demonstrate several physical and chemical principles. Some of those same principles are at work in our houses, which is why Larry set up Drinking Bird in the first place—that and he thought it was kind of funny. For the next several hours, as Drinking Bird bobbed up and down, Larry made it clear why an understanding of building science is more important than ever.
As energy prices rise, and as we tighten and insulate our homes to greater levels in response, the potential for negative consequences—mold, rot, and indoor air pollution, including carbon monoxide poisoning from backdrafting—also rises. We need to understand these issues not only to avoid the problems, but also to educate homeowners. For instance, we may need to explain why a new Energy Star furnace will lower their heating bills, but might not make them more comfortable, or why a new furnace might create problems with the old gas-fired water heater that still vents through the chimney. We might have to explain why their house developed mold problems after they added more insulation to the attic (without air sealing first).
Few of us got into building because we loved science. I know I didn't. I got into building because I liked building things. I liked driving 16-penny spikes with two licks and climbing around on a big jungle gym made of 2x4s. I liked fitting miters tightly and hanging doors that sailed closed with the push of a finger. I still like those things. But if I want to keep building, and if I want my work to last, then I'm going to have to learn a lot more about building science. Eventually, I may even understand what makes Drinking Bird work.