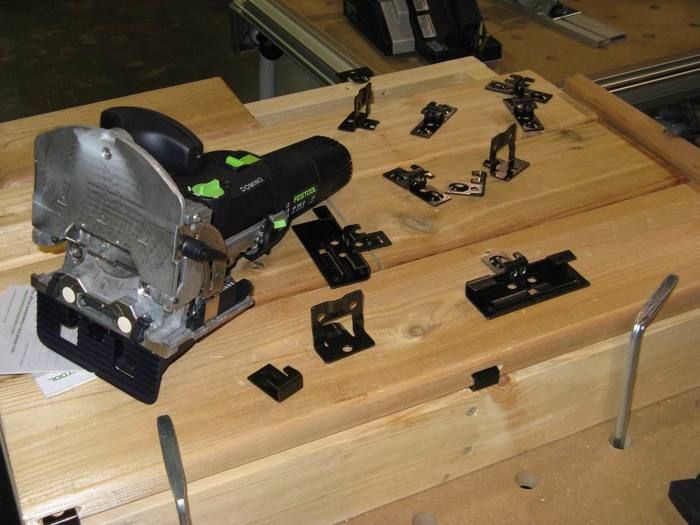 I haven't been to the JLC Live (Journal of Light Construction) show in a few years and thought it was about time, so I teamed up with our web producer John Ross and drove up last Friday morning. Regional trade shows can be a little like county fairs for builders (without the hootchie-choochie) – barkers, sideshow tents, livestock exhibits, and all those people you haven't seen in a while. As a rule, JLC Live is a show that's informative, well-attended, and just big enough to keep your interest for a day. This one was no exception. Tools and materials share floor space with a series of demos and building seminars led by folks like Mike Guertin, Rick Arnold, Gary Katz and Andy Engel, familiar names to readers of our magazine. Since Ross has his own reasons to blog about the seminars, I'll take the other path, tools and materials. (Heads up, Justin)
Here are a few items that were attracting crowds on the floor:
Festool


Festool had its Domino decking system on display. Based on the comments I heard, people who lingered by the booth were already sold on the Domino system and were curious about the deck applications. The clips will make or break its popularity. Made of coated steel, the clips create a 3/16-in. gap between the deck and joist (less chance for water problems?), but I also wonder about the longevity of the steel, especially if the coating gets nicked by a screw head. True to German engineering, there's a different clip for the first course, the last course, butt joints, etc, so deck installers will have to be organized.
Sawgear


Another popular display was the Sawgear, an automatic length measuring device that you set up on the chop saw table. Punch in the length you want and the stop indexes to the correct distance from the blade. It'll handle angles as well as straight cuts, but you have to enter the width of the board each time you change stock. Coming from Portland, Oregon, I'll bet this is something that is a miniature version of equipment the lumber industry has been using for a while. The stop's action was very smooth, and the whole deal seemed well thought out and well made. The company reps claim its accurate to 1/128-in. and that it will pay for itself in increased productivity. It costs just under $2200. Given the miter saw stands out there with adustable stops, this seems like a lot to pay for the luxury of standing in one place, but I guess if you're the cut man on a production crew, you'd probably appreciate a tool like this.
Ready Solar


Energy Federation Inc., purveyor of quality information and products, was touting a builder-friendly plug and play system of solar panels. Made by Ready Solar, the Solar in a Box is a 400 watt panel with a pre-wired inverter that does away with a larger inverter down the line. Quick-connect cables allow you to chain up any number of panels and run everything into a circuit box that's tied into the household current.
A single panel costs in the neighborhood of $1980, without roof mounts ($90-$200), connection box/monitors ($670), etc. Factor in the labor for installation and hookup to the house, you're still below the general standard of about $8/watt installed. They also have a 500 watt model. If you don't see the product on EFI's website, it's because it's brand new to them. Give them a call instead.
Opus Roof Blanket

A new material that's meant to take the place of roofing felt or housewrap, Opus Roof Blanket is supposed to offer improved traction underfoot, better tear resistance, and won't bubble up over night.
Bondera
Bondera, a tile adhesive membrane aimed at those prospective tile setters who can't get comfy with thinset. It's advertised to be used in the usual places, even the bathroom (with the additional use of a proprietary seam tape) and is made by WR Grace, the same folks that make Ice and Water Shield.
Personally, it seems a little counterintuitive to rely on stickum to keep ceramic tiles in place, but maybe they're onto something. Unlike thinset, it does make adjusting the postition of a tile more difficult.
Domino Decking System, with clips
The non-collapsible Sawgear beam comes in 8 and 10 ft. lengths