Fine Homebuilding Live Seminar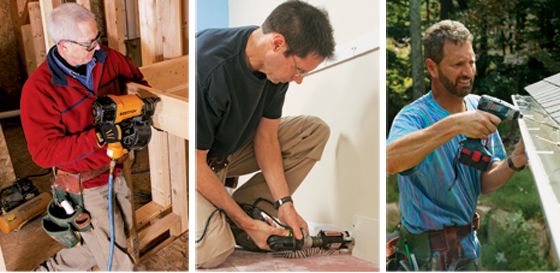 Watch the replay now.
Click play, then scroll to minute 3 to begin watching part 1. Then watch part 2 to see basic drywall techniques and how to lay out a story pole when for perfect siding reveals.
Join us to learn expert techniques from three longtime Fine Homebuilding contributing authors: Rick Arnold, Myron R. Ferguson, and Mike Guertin. Throughout the presentation, Rick, Myron, and Mike will be sharing their best building tips and tricks assembled during their combined 75 years of building experience.
First, contributing editor Rick Arnold will show you how to save 30% on time, labor, and material costs during the framing phase of your next project. You'll see how to reduce lumber without compromising strength, work with your local building department to satisfy the code, and provide backing where your siding, drywall, and trim subcontractors are going to need it.
Next, drywall expert Myron R. Ferguson will demonstrate his best techniques for an organized, professional-looking drywall installation that avoids the most common mistakes made by beginners and seasoned installers alike. Whether it's the basics of spreading joint compound or Myron's proven secrets for saving time, this seminar offers something for everyone.
Finally, editorial adviser Mike Guertin will demonstrate how to make and use a story pole for perfect siding layout. You'll learn how to make a story pole quickly and how to use the story pole to make the siding match up where it has to. After watching this seminar, you'll understand why Mike believes that making a story pole is the best way to ensure that your next siding project goes smoothly.
The show starts at Noon right here, so bookmark this blog page and join us for lunch on Saturday, April 24. Also, be a part of the event by posting your comments and questions on Fine Homebuilding's Twitter page.