Reader Email: Bargain bin flooring nailer?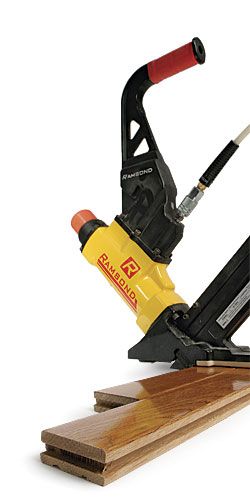 I got an email from a reader about the off-brand flooring nailer pictured in last issue's What's the Difference? on flooring fasteners. Here's the letter:
"Cleats vs. Staples" was a timely article for me as I am getting ready to put down 3/4″ pre-finished oak in my family room, and then continue throughout the rest of the home. But I was surprised to see a picture of a Ramsond flooring nailer that sells for less than $200. No Bostitch?
I had never heard of Ramsond, so I did a little research on it, as well as Freeman and Akuzuki. All are made in China, all are less than $200, and there are lots of positive reviews out there to go around. I'd rather not spend $500 for a Bostitch nailer if there is a quality $200 model out there, but I'd prefer to hear a review from you guys instead of Amazon…
Thanks for a great magazine and keep up the great work.
Regards,
Kevin S.
---
That's actually my Ramsond nailer in the photo, and I bought it for the exact reason you're describing. Years ago I was faced with 1,200 square feet of flooring to install, and I had to make a choice between buying a premium nailer, renting one for several days, or buying an off-brand. The premium tool was out of my budget, and since I could buy the Ramsond for the price of the rental, I decided to go for it.
People often argue about when it's OK to buy less expensive tools, and like any argument, there really isn't a concrete yes or no answer. I can tell you that in my case, the Ramsond paid for itself and then some. I don't do all that much flooring, but I've installed maybe 2,000 to 2,500 sq. ft. with this tool, and I recently loaned it to the infamous "There's a Better Way" founder Chuck Miller, as well as fellow editor Patrick McCombe, who is the former tool editor for Journal of Light Construction and currently handles Taunton's annual Tool Guide. Beyond a handful of jams, I've never had a problem and both Patrick and Chuck had only nice things to say. Your mileage may vary, but for me, it's been a fantastic bargain.
If other readers have tool related questions, suggestions, or comments, please email me via [email protected]