How-To
Save Time With a Prefinished Wood Floor
Factory-finished products mean less work on site, but they demand a more careful installation.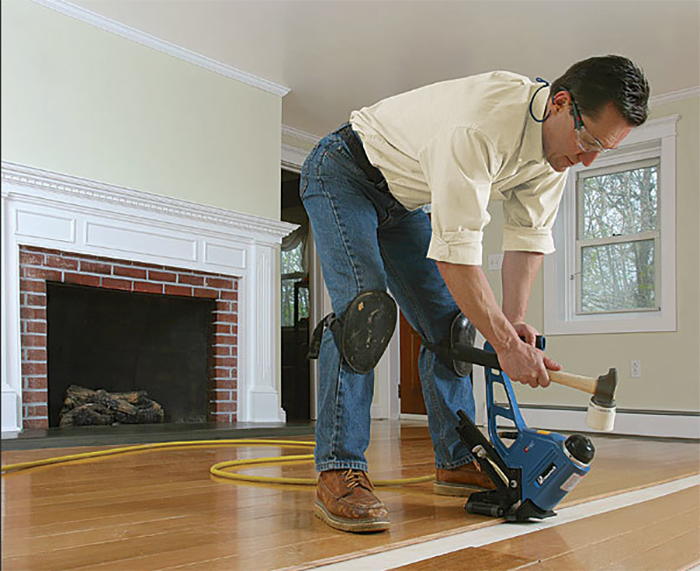 Synopsis: Installing prefinished flooring means that homeowners can enjoy their new floor immediately, without having to wait for it to be sanded and finished. Because of this, however, the installation must be done more carefully. Minor mistakes, such as a dropped hammer or a rock stuck in the sole of a boot, can have costly consequences. Author Charles Peterson, a certified wood-flooring inspector, recommends rethinking every detail, from the type of boots you're going to wear to the placement of your tools when not in use. He also includes suggestions for preventing damage to the finish, and what to do when the flooring does need to be refinished. Finally, he provides a list of things to consider when shopping for prefinished flooring.
When working with prefinished flooring, it's important to keep in mind that the finish is permanent. While that may sound a bit obvious, many contractors who are used to installing unfinished wood flooring sometimes find it difficult to transition to prefinished products. They're used to working atop floorboards that will receive aggressive sanding before the job is done — a safety net of sorts. However, the margin for error when installing prefinished floorboards is small. The most minor mistake or oversight — a dropped hammer, a rock stuck in the sole of a boot, an exposed fitting on an air hose — can have costly consequences. From job-site setup to the layout to the actual installation, getting every detail right is imperative.
I recently installed solid, 3⁄4-in.-thick, prefinished, quartersawn white oak of various widths in my house. The installation process is similar regardless of the type of prefinished flooring you choose. Many of the important lessons that you'll learn here can even be applied to the installation of prefinished engineered flooring.
Get a superior finish
Many builders are opting for prefinished wood floors for reasons of speed. Depending on the scope of the project, in as little as a single day you can install a beautiful new floor that the homeowners are able to use immediately without having to go through the inconvenience of a long and messy sanding and finishing process. Moreover, the finishes, which are applied in a factory, tend to be better from a consistency standpoint than anything applied on site.
Prefinished flooring is more sensitive to moisture changes due to its hard finish, which can be damaged if the floor is installed too dry. Acclimate the floor to the middle range of the expected interior moisture content of the house.
As good as prefinished floors can be, read the fine print of the manufacturer warranties carefully before ordering. A 50-year warranty may include clauses that make it impossible to collect on a claim. For instance, some manufacturers allow 5% to 10% of the boards to have defects. They leave it up to you not to install them. Also, wear is not considered a defect, no matter how quickly it occurs. Warranties typically cover only flooring whose finish has been completely worn off to expose bare wood; they don't cover the floor's cosmetic appearance. Maintenance is crucial. Variations in grain, color, or tone are also not considered defects, so carefully select the boards you will use in the racking process.
The right tools for a flawless floor
I recommend that you rethink every detail, from the type of boots you're going to wear — I wear nonmarring white-soled work boots — to the placement of your tools when not in use. I place all my tools on a work mat to prevent accidental scratches. While a refined method of work is important, you'll never achieve a quality installation if you don't have the right tools on hand, and there are only a few to consider.
For more photos, drawings, and details, click the View PDF button below:
View PDF