Bark Side Up or Bark Side Down?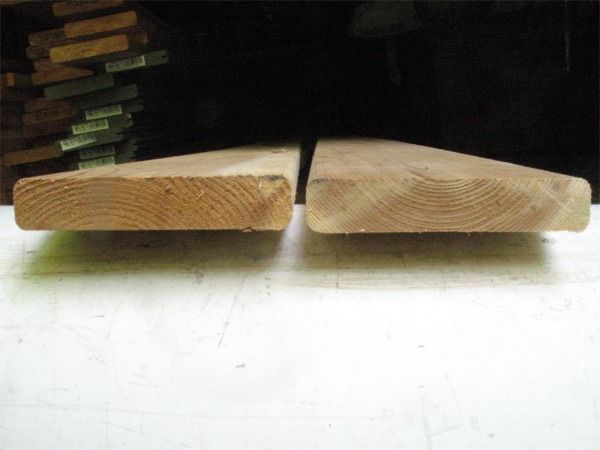 So when you install pressure treated, flat sawn, wood decking, do you face the bark side up (left in photo) or bark side down (right in photo)? Ask ten people and half will likely say 'bark-side-up,' a few will say 'bark-side-down' and the rest will shrug their shoulders.  For some direction, we can turn to wood scientists – they actually study stuff like this.
But who cares and what do we hope to gain by orienting deck boards a particular way? The objectives for orienting the decking bark side up or down are to minimize cupping (which leaves raised edges for feet to catch on), reduce splitting (AKA 'checking'), diminish the chance for rot and have fewer splinters.
A number of years ago I looked at several old decks with pressure treated southern yellow pine decking to see how the boards were behaving. On casual assessment it appeared that it didn't matter much which way the boards were laid. Just as many boards oriented bark side up were cupped, curled, checking, beginning to rot and splintering as those oriented bark side down.
Since then, I've read several scholarly pieces on the issue; most were intended for wood science peers and so technical I could barely make heads or tails out of them. Two good articles though break down the science behind the bark side up or bark side down alternatives and make it easier for us to understand what's going on inside the wood and focus on what really matters.
Wood Myths: Facts and Fictions About Wood by U Mass Amherst professor, Paul Fisette covers the deck board orientation issue in Myth 9 of his list.  His advice: "… pick the best looking surface and install the decking best-face up. Securely fasten the deck boards and apply an annual coating of water repellent."
In 1995 researchers in Wood Surface Chemistry at the USDA Forest Service, Forest Products Lab, R.Sam Williams and Mark Knaebe drafted "The Bark-Side / Pith-Side Debate"   Most of the points they make about wood behavior supports orienting deck boards "bark-side up" however at the end they state "These factors, although important, can be overridden by a third factor-the quality of the pith side compared to that of the bark side. If the pith side is clearly better, place this side up."
Then there are positions that the wood industry takes. The Southern Forest Products Asso. advises bark side up as does Georgia Pacific installation information for pressure treated lumber.
Given the points that Williams and Knaebe make and the industry position, I now orient decking bark side up provided the face is as good. When the bark side has a poor appearance, I take Paul Fisette's advice and flip the board over throwing caution to the wind.