Is It a Bad Idea to Rehab an Old Deck?
Chances are good that you will have to replace the whole frame too if your decking is worn out.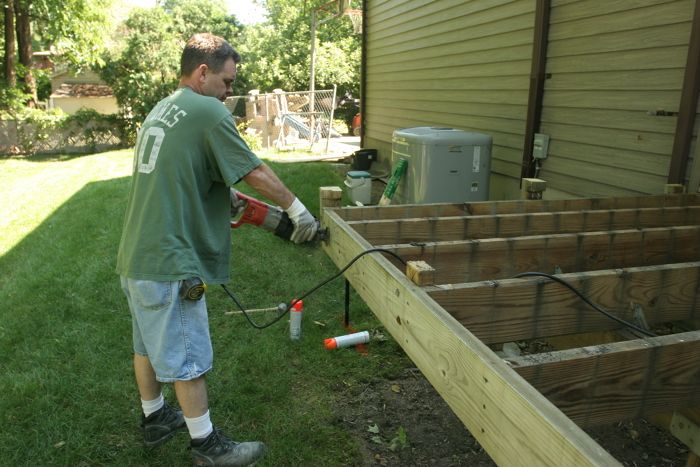 I talk to a lot of contractors whose main business is deck remodeling. And when I say deck remodeling, I mean tearing down old decks and building new, not even keeping the original frame or footings. While it's obvious that a deck remodel would probably include replacing the railing and decking, many people expect that the structural bits can stay. The fact is that it's rare for much of an old deck to be salvageable.
First, the place most likely for there to be a structural problem with decks is at the connection to the house. Many older decks aren't adequately bolted to the house, and many more are poorly flashed to keep out water. While it's easy enough to add more bolts to the deck ledger, it's nearly impossible to be sure that the original flashing was done correctly, and that there's no rot at the house due to bad flashing, without tearing off the ledger. To tear off the ledger, you need to remove the old frame. And at that point, you might just as well replace the framing because even treated lumber has a finite lifespan. Why would you install new decking and railing on an old frame that might not outlast them?
But surely, you might think, the old footings are still good. Well, if they were good originally, they probably still are. Not much happens to concrete below the ground. That said, how do you know whether the existing footings were good? You might be lucky and have an old deck that was permitted and inspected, and then you and the inspector know that those footings met code originally.
However, codes have changed. Lumber isn't what it once was, and the spans allowed for joists and beams are shorter than they were even ten years ago. So, the old footings may not be spaced for the joist and beam spans allowed today. Additionally, experience has taught many jurisdictions to require deck footings to be sized to carry not only the load of the deck as planned, but to be larger to accommodate the load from a roof that might be added later on.
So, in truth, deck rehabbing very often means deck replacement.