How-To
Air conditioner in an unconditioned attic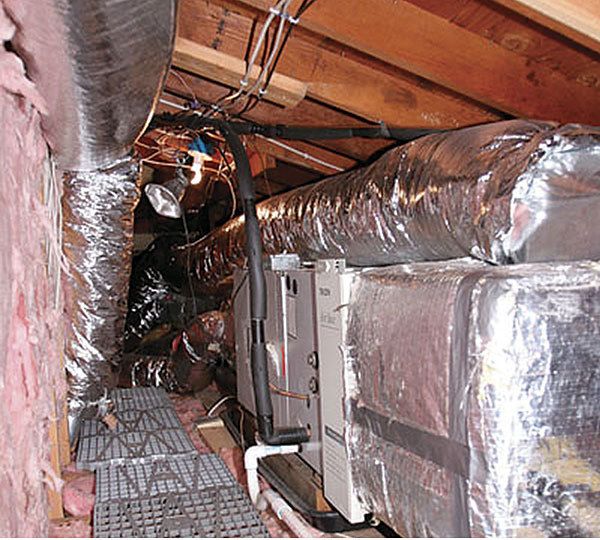 Q:
I live in New Hampshire. My central air conditioner was installed in an unconditioned attic, where summer temperatures can be extreme. This can't be very efficient. What do you recommend?
Ian Nixon, Manchester, NH
A:
Contributing editor Martin Holladay responds: You're right. An air conditioner or air handler should never be installed in an unconditioned attic. (In addition to the problem you have identified with energy efficiency, an attic-based air conditioner can be difficult to access for service.) There are two or three possible solutions to your problem, and none of them is easy or inexpensive.
The simplest solution probably would be to insulate your roof and gable walls, which would extend the conditioned space of your house to include the attic. This can be done by spraying closed-cell spray-polyurethane foam against the roof sheathing. If it is important to maintain a vented roof, you could spray the insulation against site-built ventilation chutes installed between the rafters. If it's time to reroof, it's also possible to install a thick layer of rigid-foam insulation on top of existing roof sheathing, followed by a second layer of sheathing and new roofing.
There are several possible disadvantages to this solution, however. The use of spray foam against roof sheathing makes some people nervous because spray foam complicates sheathing repairs.
If your attic is large enough, you might consider building an insulated room around your HVAC equipment. Remember to leave enough room around the equipment for service. Any ductwork that remains in the unconditioned attic would also need to be insulated carefully.
If you have a basement, the air handler and ductwork can be moved. Although this solution puts the equipment where it should have been in the first place, the work would be expensive. All the ductwork would have to be rerouted.