NAR Survey Affirms First-Time Homebuyer Surge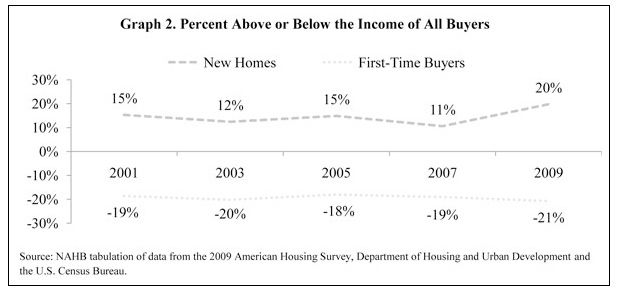 A few weeks ago we mentioned that the National Association of Home Builders' analysis of government data in the biennial American Housing Survey put first-time homebuyers among the most rapidly growing, and increasingly important, customer groups for homebuilders.
That conclusion was bolstered with the release this week of the 2010 National Association of Realtors Profile of Home Buyers and Sellers, a survey of sales and demographic trends in real estate (the survey, which is available for free to NAR members and for $125 to nonmembers, can be ordered at www.realtor.org/prodser.nsf/Research). Although the profile covers data for both existing-home sales and homes offered by builders, one of its key findings meshes well with the NAHB analysis: the number of first-time homebuyers rose to 50% of existing-home sales – a record – in 2010, from 47% in 2009.
It's useful to note that the average annual income of new-home buyers, $101,881, is about 25% higher than the $81,623 average income of existing-home buyers and about 20% higher than that of all homebuyers, according to the NAHB study. And yet, even though the study shows that the percentage of new-home buyers, relative to existing-home buyers, has dropped – to 17% in the 2007-2009 period from 21% in the 2005-2007 period – the share of first-timers overall during the 2007-2009 period grew to 41% from 35% for 2005-2007.
Family connections
The NAR study adds a little more background to this first-time buyer profile by noting that many such buyers, as they have historically, get financial help from a variety of sources: savings (74%), gifts from friends or relatives (27%), loans from friends or relatives (9%), cash from an investment portfolio (6%). The median age of these buyers was 30, the profile shows, and, when the first-time-buyer tax credit was available, their homes averaged 1,540 sq. ft. at a cost of $152,000.
"It appears," said Paul Bishop, NAR vice president of research, "more parents were motivated to help their children to take advantage of the homebuyer tax credit and very favorable affordability conditions."
The profile also emphasizes the investment value of real estate for buyers whose purchases are not based on speculative strategy. Typical sellers in the 2010 profile had been in their previous home for eight years, up from the seven years indicated by an NAR profile released in 2009, although first-time buyers said they plan to stay for 10 years. Even amid the downturn, sellers who purchased a home eight years ago saw a median equity gain of $33,000 – a 24% increase – and those who sold after 11 to 15 years saw a median gain of 40%, the 2010 profile showed.