Installations of Split-face Concrete Block Draw Scrutiny in Chicago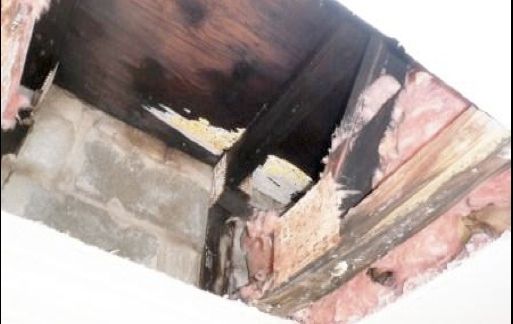 With the range of weather conditions exterior-wall systems face in many parts of the country – especially in the mountain states, the Midwest, and the Northeast – it's no surprise that defects in materials and/or installation can make themselves known fairly quickly and prominently in these regions.
Recently, reports have surfaced that a growing number of homeowners in the Chicago area are struggling with wet spots, rot, and mold problems on exterior walls that feature split-face concrete block, the architectural and decorative concrete masonry unit whose rough, stone-like texture is created by splitting a block during production. The material is available in various configurations for load-bearing and non-load-bearing uses.
"For the last four or five years, the major problem we saw was water coming in, and mold and stained walls," William Decker, of Decker Home Inspection Services, told ABC-TV's Chicago affiliate, WLS. Decker and another Chicago-area home inspector, Kurt Mitenbuler, added that over the past five years the problem has grown more serious as water condensation – exacerbated by temperature disparities between the block on the outside and the interior wooden surfaces of a wall system – eventually caused wood roof beams to rot where they come in contact with the concrete blocks.
The fact that wood beams are resting directly on the masonry of many of the houses he has inspected, Decker told Fine Homebuilding, suggests the problem likely is widespread among homes with split-face block exteriors. The biggest concern, he added, is that the roof-to-wall system will fail.
Sorting through the evidence
"I've seen some (beams) that you can put your finger through them, they're so soft. The weight of the roof just breaks them off," Decker told WLS. "Come this winter, especially with the snow loads we're used to in Chicago, I'm very concerned."
In its overview of split-face concrete block, the NAHB Research Center's Toolbase.org website does in fact note that the material, which is more widely used in commercial building than in residential projects, "shares some disadvantages with standard CMUs, such as mortar susceptibility to long-term water penetration, high thermal transmission, low tolerance to freeze/thaw cycles, and dust collection when used as an interior finish."
The Chicago Department of Buildings says, however, that it has not received reports of damage to roofs due to improper installation of walls featuring split-face concrete block, noting that "when properly constructed and maintained, split-face block does not cause a safety threat to the structure or occupants of the buildings."
Decker told Fine Homebuilding that fixing the problem means, in addition to replacing the rotting wood, properly sealing the masonry (with, for example, elastomeric paint) and installing flashing between the masonry and wood surfaces to prevent moisture transfer.
We've also contacted Mitenbuler for his observations (he promises to get back to us soon) and asked a couple masonry manufacturers tiny_mce3-2-1-1/themes/advanced/langs/en.js?20101122″ type="text/javascript"> for feedback.