Bostitch Twin Blade Knife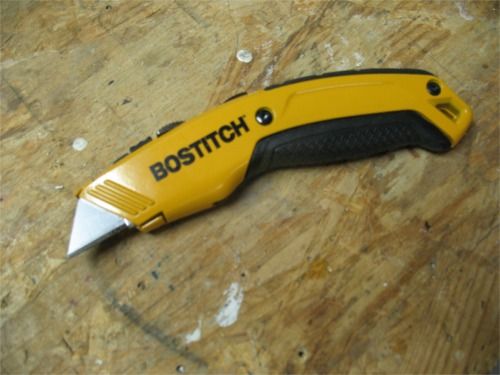 Dual blade utility knives aren't new. CH Hanson's FlipKnife has been out for several years and double folding style knives are available from a few companies. What makes the Bostitch Twin Blade Knife a stand out? Both blades extend from the front with a quick slide of your thumb. Dual blades are great for roofers who like to have both straight and hook blades at their fingertips or if you find yourself in need of a quick-change to a fresh blade without delay.
There are two blade slide buttons on top that each lock into 3 detent extension positions for shallow, medium and deep cuts. When one blade is extended, the partner is locked inside. There's a ribbed thumb pad ahead of the slide buttons so you have a spot to bear down on when pressuring through a cut.
Ahead of the thumb pad is a blade release button. You shift it left or right to disengage the blades when end-for-ending or swapping in a new blade. And there's room for half a dozen extra blades in the drop-down belly in the handle.
The Bostitch Twin Blade Knife is a little wider and heavier than the Stanley 10-788 model I carry regularly but still feels good in hand. It also has the same ergonomic offset body and grippy belly surface I'm used to.
The Bostitch knife is the same as the Stanley FatMax Xtreme Twin Blade 10-789. Expect to pay $11 – $13.
www.bostitch.com