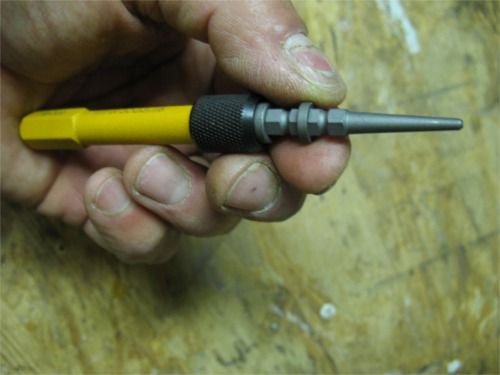 I carry small and medium nail sets in my finish vest to sink heads my trim nailer doesn't. But when I reach in the pocket, it's a 50/50 chance I get the right sized set. The Bostitch Quick Change Nail Sets put an end to that. The set has a reversible tip that works like an interchangeable screw bit holder. The release collar near the nose slides forward to unlock the double-ended nail set 'bit.' The bit has 1/32 in. and 1/16 in. ends and a standard ¼ in. hex mount.
I've been known to beat on a standard screw bit holder to drive a Philips bit into a cheesed-up screw head; and often the bit either locks permanently into the holder or the holder cracks. So I was a little leery how durable the Bostitch Quick Change design would be – so I tried setting my vice into the bench. I whacked on the Quick Change nail set with about 4 times the force I'd ever need to drive a nail into hardwood. Aside from blunting the tip a little, the quick-change collar still works fine.
One neat side feature of the Quick Change – since it's based on the standard ¼ in. hex driver, regular screwdriver bits fit. So now my nail set doubles as a small screwdriver in a pinch.
Street Price – $7.99