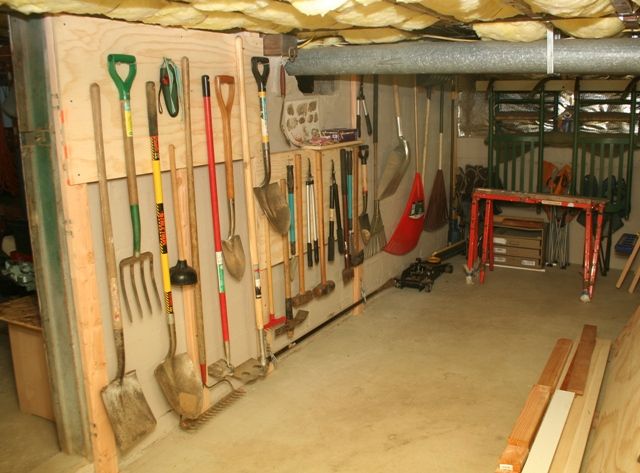 I'm generally a pretty tidy guy, especially when it comes to organizing my tools. I like to know where stuff is, and I like when it's easy to get. So the pile of shovels, rakes, sledgehammers, and other long-handled tools stuffed in a back corner of my basement had really been getting on my nerves. The final straw occurred over the Thanksgiving holiday when a toppling rake handle smacked me in the forehead while I was reaching for a broom.
So Saturday morning I braved the crowds in the home center, looking for a quick way to organize my shovels and rakes. I came home with a 3-ft.-wide plastic organizer that I hung up with the help of my 4-year-old son. When we finished, I started hanging up the tools. At this point it became painfully clear that the manufactured organizer was complete garbage, despite a $35 price tag. Even the lightest tools slid through the grippers meant to hold them, and many of the tools simply didn't fit.
Bright and early the next day, I pulled down the organizer, put it back in the box, and returned to the home center. This time I came home with a $36 sheet of AC plywood, six 8-ft. studs, a box of 3-in. screws, and 25 tapcons. I spent about $100 in total. At the time, I wasn't exactly sure how my homemade organizer would be configured or constructed, but I'm very happy with the final result. And I still have a couple of studs and half a sheet of plywood left for another organizing project.
The best part of my custom setup is I can easily tell when something is missing and don't have to move other tools to get the one I'm after. And when my storage needs change, I can easily swap things around. I haven't done it yet, but I'm planning to write the name of the tool on the plywood behind the tool handle, so it's easier to put everything back when I have more than one or two tools removed.