Putting an American Myth to Rest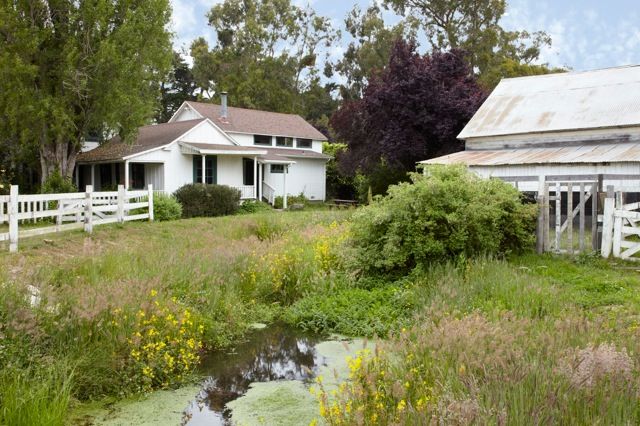 While researching In-laws, Outlaws, and Granny Flats: Your Guide to Creating Two Homes from One House, I happened upon the Murphy Ranch on Northern California's Point Reyes Peninsula. Blessed by rich fishing, fertile earth and a year-round stream (Home Creek), the land had been inhabited by an indigenous tribe, the Miwok, for thousands of years. According to locals, nearby Drake's Bay was visited by Sir Francis Drake in 1579 when he needed to haul out and repair the Golden Hind.
  Because the land is also rich in legend, I expected to find the usual lore of the West-the lonely cowpoke and the rugged individual etched against the sky. But the Murphy Ranch, established in 1857 and still going strong, owed much of its longevity to shared housing and rugged cooperation, as embodied in the in-law unit of its day-the bunkhouse. One of the oldest buildings in the complex, the bunkhouse was attached at a right angle to the main house and sat next to Home Creek.
Cushy for a Cowboy
Living in the bunkhouse was a job perk conferred on ranch hands who had proven their worth. New arrivals and unproven hands slept in a barn or an outbuilding and a surprising number of them were foreign-born: waves of Swiss Italians or Irish farmers fleeing famine or Chinese who'd come to work on the railroad. Anyhow, as farm lodgings went, the bunkhouse was pretty cushy. Partitioned into tiny rooms, it offered each man a modicum of privacy and a bed. And because one doorway opened into the dining annex of the main house, bunkhouse inhabitants generally got to the breakfast table first. It also had its own woodstove that cowboys could sit around and shoot the breeze if they weren't too exhausted from working dawn to dusk.
  Like a modern in-law suite, the bunkhouse gave its dwellers a little distance from the family in the big house-and vice versa. This physical separation was especially welcome if, for example, the tenant farmer had six eligible daughters, as the DeFraga family did. There was no doubt friction from time to time, but generally everyone got along. In fact, this social and economic arrangement was so stable that in 153 years, just two families have owned the ranch. The Murphys bought it in 1929 and these days, though the property is subsumed within the Point Reyes National Seashore, a Murphy still runs the ranch.
30 Dogs and a Leaky Roof
During the Murphy years, the ranch shifted from dairying to raising beef and saw a number of much-needed improvements such as indoor plumbing. But the compound was beginning to show its age. Almost all its buildings were framed from local old-growth redwood, which is remarkably rot-resistant, but even redwood will decompose if it sits on damp ground for too long. The bunkhouse was particularly run down because a nearby creek overflowed nearly every spring. It became so decrepit that one of the ranch hands, Olaf Larsen, memorialized its leaky roof in his epic poem, "A Quiet Day on the Murphy Ranch."    
  The ancient bunk house still may know
  The many men who come and go.
  But it's no longer weatherproof,
  Rain floods in torrents through the roof,
  And chilling winds and drenching rains
  Blow through the broken window panes.
  To keep dry in his room, a "fella"
  Would have to park 'neath an umbrella,
  Be careful when he planked his seat,
  And wear galoshes on his feet.
  Presumably the roof was patched, but the bunkhouse's days as a cowboy dorm were numbered. Beef cattle required fewer hands than dairy cows, the ranch became more mechanized and, thanks to automobiles, workers no longer had to live on the ranch. Sometime after the war the doorway into the main house was walled up, a few partitions were removed to open up the space, and a kitchen was installed in the former bunkhouse, which then housed just one elderly hand, Jim Bernoud, his wife and about 30 dogs. The Bernouds lived there till the 1970s, when they passed away and an era died with them.
  In 2001, the National Park Service raised and repaired the building, gave it the foundation it never had, and added a sweet little porch facing east. Now the bunkhouse sits high and dry above the creek and, with any luck, it will do so till Drake comes back for another visit.
Create Your Own In-Law!
If you're interested in second units, please check out my recent book, Outlaws and Granny Flats: Your Guide to Turning One House into Two Homes. The Library Journal named it one of the 10 Best Design Books for 2011. You can get an e-book version on Apple's iTunes Store, or on the Taunton Press Store. You can also sample In-laws, Outlaws' lush color photos at www.cozydigz.com 
If you will be renovating a home, there's no better companion than Renovation 4th Edition, (November, 2012). Its 614 pages, 1,000 photos and 250 detailed illustrations cover home renovation from start to finish and  contains lifetimes of practical, field-tested techniques that professional builders shared with me over a 40-year period.
© Michael Litchfield 2012
A classic bump-out addition, the Murphy Ranch bunkhouse (center, with chimney) sits above Home Creek. Built in 1857, the bunkhouse today is an in-law suite rented to visitors who want to live on a working farm or explore surrounding parklands.
Ranch workers with a little time on their hands put on the gloves and get ready for the 1936 Olympics.
Bunkhouse mudsills sat directly on the earth, there was no foundation. After decades of deferred maintenance and periodic spring floods, the sills, first-floor joists and many of the studs rotted away.
In 2001, the National Park Service raised the historic structure and replaced almost everything below the ceilings joists. The upper half of the building rested on three large beams while a new foundation was poured and new framing was installed.