Room at the Top: Converting an Attic Into an In-Law Unit
Four questions can help you decide if it makes sense to convert that "free space" into living space.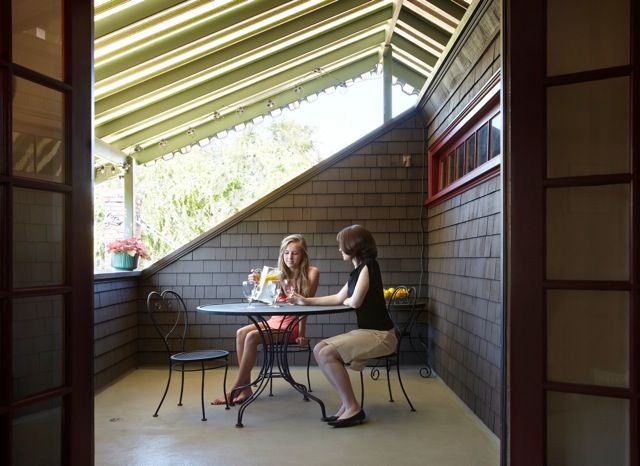 Most folks assume that an attic is "free space" just because it's there, but the reality is usually more complicated. Attic framing is often skeletal, strong enough to support a roof and to provide a ceiling for the rooms below, but not really stout enough to support the live loads of someone living in the attic. Consequently, how easily and affordably you can convert your attic depends the answers to these questions:
1. Is there enough headroom to satisfy local codes? (Most require 7 ft. 6 in.)
2. Are attic floor joists large enough to support a living space?
3. How will the attic apartment be accessed?
4. Can enough insulation, ventilation and/or air conditioning be added to make the space habitable? In hot climates, this question is particularly important.
It's best to reconnoiter your attic in the morning, before it has a chance to heat up. If the attic is unfinished watch out for nails protruding from the underside of the roof sheathing, and if there are few (or no) floor boards in the attic, avoid stepping between joists. A leg flailing wildly in the middle of the ceiling is funny only in the movies.
Situations you might encounter
If you answered "no" to any of the four questions above, you should talk to an architect. Correcting any of these conditions will require a well-thought-out design and modifications to the structure. An architect will know structural engineers and other specialists who can help get the job done right.
Headroom. Beneath sloping rafters, ceiling height is greatest beneath the ridge or apex of the roof and decreases as you approach the eaves. So headroom is a relative term. Generally, adequate headroom means enough height to walk through living spaces and to use various functional areas-kitchen, bathroom, stairs and so on-without bumping your head or having to stoop. It's acceptable for closets, storage areas and, say, ceilings over beds to be less than full height-in fact, that's a good use of marginal spaces.
But if the attic's headroom is inadequate, generally you'll need to reframe some part of the roof grid to create additional height. Adding a gable dormer or a shed dormer is a common way to gain a little headroom and to provide a wall for windows. If, however, you can't create enough headroom by installing dormers, raising or reframing the whole roof may be the next option-albeit a hugely expensive one that may involve structural modifications all the way down to the foundation. Unless you have a compelling reason to convert the attic in this case, consider some other way to create an in-law unit.
Attic floor joists. If floors are springy and joists are undersized for live loads, you will need to reinforce them or shorten the distance they must span. Here again, solutions quickly become complicated and costly. If , for example, joists are adequately sized but floors are springy, adding a ¾-in. plywood subfloor may stiffen things up. If joists are inadequate, nailing or bolting larger joists to the old ones-a procedure called "sistering"-may suffice. Because larger joists are also deeper, however, sistering may not be viable in an attic with limited headroom. Bolting metal flitch plates to joists is another option, but one best left to a pro.
If reinforcing joists is out, your next recourse is to shorten the distance that the joists must span by adding a girder or a bearing wall underneath. Typically, this option is disruptive to rooms below the attic and requires some modification of the foundation to accommodate loads from the floor(s) above.
Attic access. Providing acceptable access to an attic suite depends on where the stairs are located, what condition they're in, and what local codes require. Stairs take up a lot of space and impact privacy because no one likes the sound of footfalls overhead. So it's best if they don't run through the middle of downstairs living spaces. For this reason, stairs for attic rental units are often located towards one end of a house.
Local codes may require a second egress location for attic units, usually a set of exterior stairs, and they tend to be mud-ugly. If you want to locate them on the side of your house, make sure you have enough room to access them -and your neighbor's consent. Stairs are large and generally ungainly and anyone using them could potentially look down into a neighbor's window.
Problematic climate control. There are many options for controlling air temperature and quality in an attic, but the best ones moderate temperatures without consuming energy. Windows and skylights that open, for example, allow warm, moist air to rise and exit; the more windows, the better the cross-ventilation. An adequately insulated roof, in turn, will conserve conditioned air and prevent excessive heat build-up in summer, as will air allowed to flow freely under the roof, entering at soffit vents, rising as it heats and exiting at ridge vents, gable-end vents and the like.
Adequate insulation and natural ventilation require rafters deep enough to accommodate them. A properly sized rafter allows air coming up from the eaves to flow over insulation (and under the roof sheathing) to exit at ridge or gable-end vents. If your rafters aren't deep enough, there are many choices, but they tend to be costly to implement or operate. Reframing the roof with larger rafters or installing rigid insulation atop the roof sheathing, for example, can cost a lot up-front. Consequently, homeowners usually opt for mechanical solutions such as conditioners and vent fans.
There are other issues that affect the viability of an attic conversion-notably sound control and the location of large DWV pipes-but we'll get to them in future blogs. So please visit this blog often and by all means suggest topics you'd like to know more about.
Create Your Own In-law!
If you're interested in second units, please check out my recent book, Outlaws and Granny Flats: Your Guide to Turning One House into Two Homes. The Library Journal named it one of the 10 Best Design Books for 2011. You can get an e-book version on Apple's iTunes Store, or on the Taunton Press Store. You can also sample In-laws, Outlaws' lush professional photos at www.cozydigz.com
If you will be renovating a home, there's no better companion than Renovation 4th Edition, (November, 2012). Its 614 pages, 1,000 photos and 250 detailed illustrations cover home renovation from start to finish and  contains lifetimes of practical, field-tested techniques that professional builders shared with me over a 40-year period.
© Michael Litchfield 2012
A roof deck creates an airy private space for attic dwellers, but it must be meticulously detailed to clear water and forestall leaks. Though the Gaco-Flex coating on this California roof deck has never leaked, the owners added an awning after a storm dumped 6 in. of rain in two hours. From In-laws, Outlaws, and Granny Flats
Under sloping roofs, headroom diminishes as you approach the eaves. But with a few well-placed knee walls, those subprime spaces are perfect for storage or bed alcoves. This Minnesota in-law suite has a queen bed flanked by built-in closets. From In-laws, Outlaws, and Granny Flats
When considering an attic conversion, keep in mind the framing that surrounds and supports it. You may need to beef up that framing down to the foundation or, in some cases, upgrade the foundation. From In-laws, Outlaws, and Granny Flats.