How to Drum Up More Remodeling Business — Should I Pay to Estimate?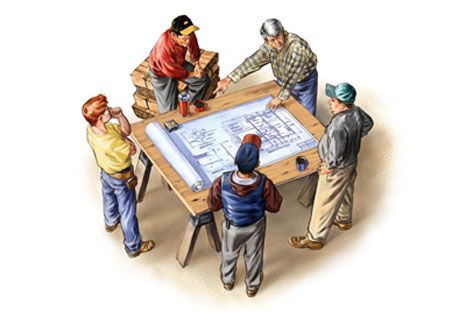 Giving free estimates in hopes of attracting new customers is one conventional approach of expanding work opportunities, but Oak River Mike wonders whether that tradition could be turned on its head.
"Has anyone ever worked up a way to offer to pay the potential client to give them an estimate?" he asks. It sounds far fetched, he admits, but offering a $50 gift card, or even $50 in cash, just for the opportunity to give a bid to a potential customer might mean new business.
"I realize there is alot to work out on this process but I am open to think about it," Mike writes in a post in the Breaktime business forum. "With what I am spending on other ad sources with very little return, I might be more open to at least paying the person I want to work for as opposed to a third party who doesn't care whether I get the job or not as long as they get their money."
What kind of customers are you likely to get?
Thinking outside the box takes courage and imagination, yet several posters weren't convinced this idea holds a lot of promise.
"Excellent way of immediately narrowing down your leads to price shoppers," replies Carpeater. "And that's if they really have a project and budget in mind in the first place."
"I see all the time offers from roofers and the like that they'll give you a certificate for a free box of steaks or some such in exchange for letting them do their pitch," adds DanH. "Generally smells a little bit to me (even if the steaks are fresh)."
And this footnote from Carpeater: "Send me a $25 gift certificate and I'll email you the specs for an addition that I never plan to build. If I find two other bidder to do the same I can take the wife out to a nice dinner.
"Just sounds crazy to me," he says. "Maybe a "$100 gift certificate for every signed contract. Remember, don't give the coupon until AFTER signing the contract! That's as far as I'd think of going."
And finally this from Florida: "We used to have a remodeler here who did something pretty close to what you're describing. It was always something different, free steak knives this week, weekend cruise the next followed by a genuine grandfather clock. They were very hard sell, had a terrible reputation, went through qualifiers like cheap candy and eventually went out of business."
Actually, Oak River Mike says, the idea of payiing for the chance to give an estimate is a followup to something he tried earlier. He sent out $10 Starbucks gifts cards to 50 local architects. Meet with us to discuss potential work, he told them, and we'll pick up the tab while you get to keep the gift card for future use.
"Out of 50 we sent out, TWO called us to thank us and ONE actually wanted to meet," Mike says. "More out of the box thinking but it didn't really work all that well."
Try door-hangers
Hazlett has another idea: walk through a carefully selected neighborhood and hang advertising brochures on door knobs.
He gets roughly three calls for estimates for every 200 hangers he distributes, and of those he ends up with a paying job about 50% of the time.
Hazlett is careful to stay off of homeowners' lawns, won't walk up to people he finds at home ("because I hate it when people bother ME at home"), and chooses his target neighborhoods with care.
"I want neighborhoods where the husband and wife are both working, Volvo= disposable income-but not too much," he says. "I want houses pre-WWII, mature landscaping, nice lawns, well maintained -and if possible Monday morning is THE ideal time to hang them."
Hazlett hasn't been using this approach long enough to know exactly how it will work out, but after working primarily in his own neighborhood for more than 20 years, he's looking for a way to branch out to serve a bigger area. He's even considered hiring someone to hang flyers for him on a part time basis, providing he could find someone reliable who could work independently.
He's also in the process of tracking down a service that for $45 will print and mail promotional material to the 50 closest homeowners to any specified address. So, he says, "I do a project at 1680 Brown Street–and for $45 I get a custom mailer sent out to the 50 closest homeowners."
Use an open house to draw potential customers
While Txlandlord, who owns a design/build company, doesn't think flyers would work in his situation, holding an open house in a recently completed project might.
His company designed and built three "very nice homes." He approached the homeowners and asked if he could host an open house before they moved in, in each case offering some credits toward costs.
"The clients were more that willing, and one stayed at the home helping us with the avalanche of visitors," Txlandlord says. "All three Open Houses were successful. We ask visitors to provide contact info, and indicate areas of interest (new home / plan work / finding lot). The card doubles as a drawing entry for a $100.00 gift certificate to a very popular gourmet Mexican restaurant."
Txlandlord follows up with emails "before the more invasive phone all."
"The key is advertising in advance," Txlandlord adds. "We ran ads in newspapers in a 45-mile radius, and the last time we bought radio time on a local station. We start advertising two weeks before the event. We also must be willing to work on a Saturday and Sunday at the Open House. The Chamber of Commerce also helped us in promotion of the events."
The company ended up sinking several thousand dollars into the events, but the three open houses so far have generated $1.7 million in projects "with at least 10 inquiries from people who plan to build in a year or two."