Budget-Friendly Concrete Forms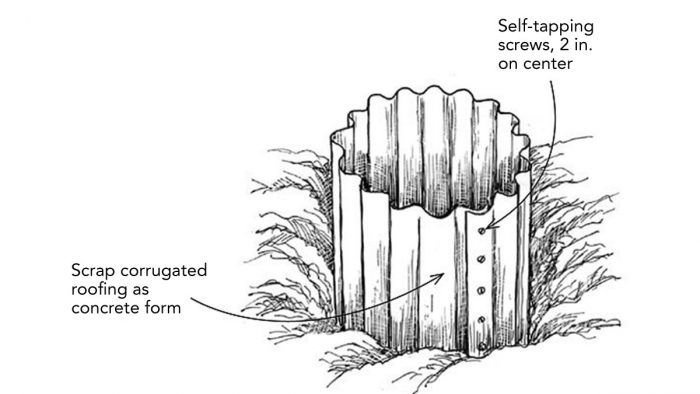 To avoid the high price of cylindrical cardboard concrete forms, I made my own out of sheets of scrap corrugated-metal roofing. As shown in the drawing below, I used self-tapping screws to affix the overlapping ends to one another at the seam. This is essential to making the form strong and resisting the outward thrust of the concrete.
After 24 hours, while the concrete is still green, you can unscrew the seam and pull the form away from your concrete column. I've used the same form for several pours, and I have poured concrete columns up to 4 ft. tall using this method. Around here, a 12-ft. length of 2-ft.-dia. Sonotube runs over $120. But I'm out only the cost of a box of self-tapping screws and scrap tin using this tip. An added bonus is the nice fluted-column effect the corrugated tin provides the finished product.
Miles Eddins, Tuscaloosa, AL
Edited and Illustrated by Charles Miller
From Fine Homebuilding #217