Design
Designing for Privacy and Views
In a dense neighborhood, a small, modern home embraces a secluded outdoor space.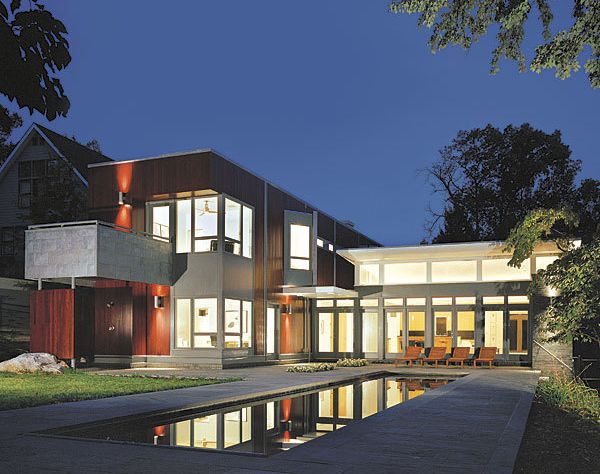 My firm's client, Joan, owned a small 70-year-old cottage in Bethesda, Md., that was slowly deteriorating. Although the suburban lot was narrow, toward the back it had great views to the northwest of the parkland that runs along the Potomac River. The view to the northeast, however, was not as pastoral. Joan's neighbor had built the tallest house in the area, and Joan literally felt overshadowed.
At first, our discussions centered on the idea of remodeling the existing house, but the more we talked, the clearer it became that it would be easier just to start over. The new house would take advantage of the parkland views and would use a two-story bedroom wing as a privacy screen for a secluded backyard.
Joan's requirements for the house were modest: In addition to the requisite living spaces, she requested two bedrooms and a ground-floor office that could be converted to a bedroom in the future. The kitchen and the dining and living rooms could be combined in a single space. The only extravagances would be an in-ground pool, an outdoor shower, and a one-car garage. By Washington D.C., standards, the 2100-sq.-ft. design was small.
Selective views determine the shape of the house
The T-shaped plan combines a two-story bedroom wing with a one-story great room that contains the kitchen and living room. An entry hall stitches the two wings together and provides a connection from the entry to the rear terrace.
Screened by trees, shrubs, and the bedroom wing, the backyard and the pool terrace are private. The office and all the main living spaces open directly onto the terrace, providing a sense of seclusion and expansive views, despite the small lot size. The second-floor master bedroom and its balcony overlook the pool as well.
Strategic windows promote privacy
The living room's glass wall opens to views of the pool and backyard. On the opposite wall, the lack of large kitchen windows creates privacy from the street. Although shielded by the kitchen, the living/dining room is daylit by the encircling band of clerestory windows. Awning windows placed on the east side admit natural light, but are high enough on the wall to block the views of the neighbor next door. Corner windows and projecting bays on the second floor are oriented toward the backyard and the more distant views downhill.
For more photos, floor plans, and information about this project, click the View PDF button below.
View PDF