Lightweight, Dead-Flat Worktable
An old aluminum ladder is at the core of this simple, sturdy homemade workbench.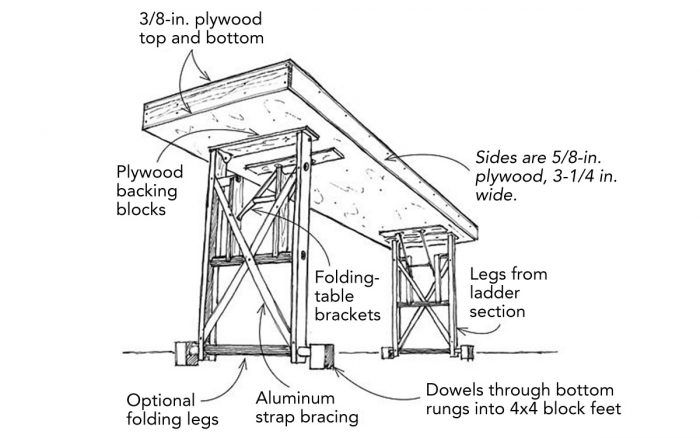 I've had it in mind for quite some time now to use an aluminum extension ladder as the core of a strong, straight, and lightweight worktable. Last spring, I got my chance when I bought a ladder with two 8-ft. sections at an estate sale.
To begin, I removed all the extraneous stuff and cut one section to 94-1/2 in. I had a bunch of scrap redwood (lightweight) lying around, and I ripped some of that into 3/4-in.-thick stock. Then I ripped it into the various widths noted on the drawings, and I affixed the wood pieces to the ladder with drywall screws into pilot holes and construction adhesive.
The wood framework ends up at 2 ft. by 8 ft. so that I can skin both sides with a single sheet of 3/8-in. plywood ripped in half lengthwise. I glued and screwed one half to the top. The bottom half I attached with construction adhesive on the aluminum channels and glue on the wood strips and screws.
I ended up with a perfectly straight, lightweight worktable that I also can use as a scaffolding plank. The table can be supported by sawhorses. Or you can make the optional folding legs shown in the drawing from the other half of the ladder.
Alex Oppedijk, Forest Knolls, CA
Edited and Illustrated by Charles Miller
From Fine Homebuilding #217