Tools & Materials
Superstable Sawhorse
Fulton's Stablemate sawhorses are durable and reliable, lasting longer than other brands.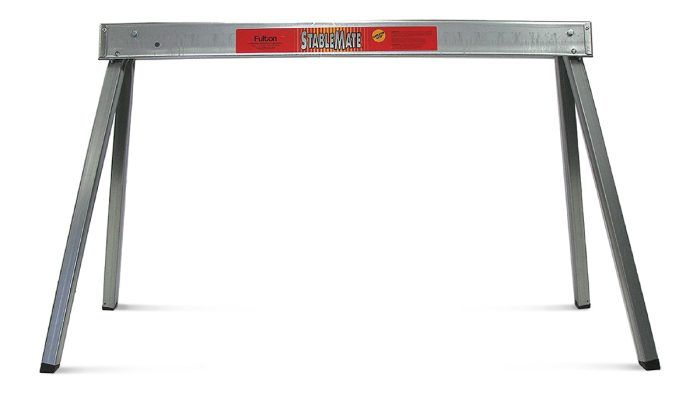 Sawhorses are often the first thing we unpack out of the trailer and the last thing we load up at the end of a job. I've owned many sawhorses, and most of them don't hold up to the daily abuse for longer than a year. One type that breaks this mold is Fulton's Stablemate sawhorses. These sawhorses have been around for years—I still use a pair that I bought in 2006—and luckily the manufacturer has not tried to make any "improvements" that would undermine the features that make them great to begin with.
These sawhorses fold up for easy storage and have nonskid rubber feet, which is helpful when I'm working indoors on finished floors. I've put the 3000-lb.-per-pair weight capacity to the test on several occasions without feeling unsafe. I love that they are available in two heights. I use the 36-in.-tall horses as a workbench and the 30-in. ones to stack building materials. And while many sawhorses are 32 in. long, Stablemate horses are 42 in., which means stacked sheet goods are more stable. There are holes drilled in the bottom of the saddle for installing sacrificial boards to the top.
The 16-ga. steel makes these American-made horses a little on the heavy side, but I will carry that weight every day knowing that I can count on their durability. And because the sawhorses are galvanized, I don't have to worry about leaving them outside. My original ones don't look much different than they did the day I bought them. Both the #4230 and the #4236 Stablemate models cost about $125 each and are available at professional tool-supply stores and some lumberyards.
Kory Koehler, a builder in Minnetrista, Minn.
From Fine Homebuilding #319
---
RELATED STORIES