An Uptick in Remodeling Expectations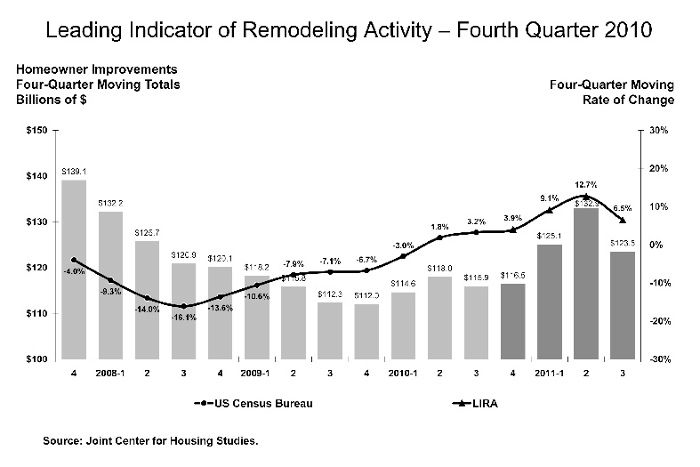 While the new-home market is expected to improve later this year, the market for remodeling projects is expected to track up as well, reflecting consumers' gradually improving outlook on the economy and homeowners' sense that the housing market has, in most (but not all) locations, pretty much hit bottom.
Last month, for example, the Remodeling Futures Program, a research initiative at Harvard University's Joint Center for Housing Studies, released its Leading Indicator of Remodeling Activity (LIRA), focusing on the first three quarters of 2011. LIRA is an estimate of national homeowner spending on improvements for the current quarter and subsequent three quarters. This most recent edition of LIRA predicts marked increases in remodeling activity for the first two quarters of 2011, and then a slight decline.
"After an initial burst in activity, the recovery may lose some steam later in the year as continuing problems with weak house prices and large numbers of distressed properties keep home improvement gains in check," Kermit Baker, director of the Remodeling Futures Program, said in a LIRA press release. "But the overall trend is for continued growth in 2011."
The remodelers speak
Likewise, the most recent National Association of Home Builders' Remodeling Market Index (RMI) readings, released last week, show the overall RMI was 41.5 in the fourth quarter of 2010, up from 40.8 in the third quarter. (As NAHB notes, an RMI below 50 indicates that more remodelers say market activity is lower compared to the prior quarter than report it is higher; the RMI has been running below 50 since the final quarter of 2005.)
In addition, the RMI component measuring future indicators of remodeling business increased, to 39.7 from 38.1 in the previous quarter, NAHB said in a press release. And only one of the four indexes designed to gauge future market conditions, the one reflecting the amount of work committed for the next three months, failed to show improvement. The other future-market indexes – calls for bids, jobs backlog, and appointments for proposals – showed upticks.
"Clients who we were talking to two years ago have called up and said 'We're ready to put this back on the front burner and move forward,'" Paul Zuch, president of Dallas-based remodeling firm Capital Improvements and president of the National Association of the Remodeling Industry, told the Wall Street Journal for a recently published story.
Where the action will be
Trying to predict which markets likely will be the most vigorous is a bit complicated, but Hanley Wood's Remodeling magazine has given it a go. Its Residential Remodeling Index was used to create a list of the top 100 remodeling markets in the U.S., which it released in late December.
The ranking is based on a range of statistical inputs, including permits, demographic and economic data, calculations for future demand, and survey data that includes consumer reported projects. In terms of overall levels of remodeling activity in the 366 metropolitan statistical areas analyzed, the ranking shows the top 10 markets to be, in descending order: Cincinnati; Houston; Minneapolis; Dallas; Austin; San Antonio; Kansas City; Charlotte, North Carolina; Oklahoma City; and Philadelphia. Boston, Denver, New York, Pittsburgh, and Seattle made the top 20.