Is Radiant Floor Heating the Best Way To Warm A Well-Insulated House?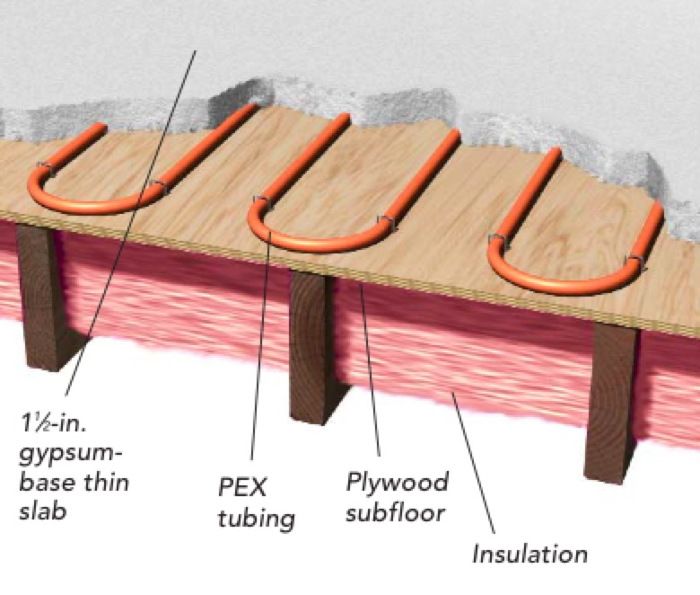 What's the best way to install radiant floor heating?
Lukas Smith is planning a radiant-floor heating system for his fairly large but well insulated house in southern Ontario. He wonders whether the hot water can be supplied by a water heater rather than a boiler, and how to provide air conditioning.
Lukas's post in the Q&A forum at GreenBuildingAdvisor is an effort to settle the fine points of the design, and the subject of this week's Q&A Spotlight.
Is radiant heat right for this home?
Some of the answers may have surprised him. While some responses steered Smith toward non-boiler options for heating water for the radiant-floor tubing, other posters suggested there might be more economical ways of heating the house altogether. Chief among them is the ductless mini-split, a type of air-to-air heat pump.
Conventional air source heat pumps lose efficiency rapidly as temperatures fall, but newer designs such as a Mitsubishi Electric model perform much better in very low temperatures. One Connecticut homeowner reports that heat so far this year has cost hiim a paltry $170.
Even better, heat pumps provide air conditioning as well as heat, something that radiant-floor heating systems can't do.
Read the whole article at Green Building Advisor.
Further Resources
Improvised Radiant Heat in A Bathroom Floor
Warm Floors on a Tight Budget

Energy Efficient From the Ground Up