Patrick's Barn: Ordering Too Little Concrete Was a Rookie Mistake
I learned the hard way that, when you're pouring a slab, too much concrete is better than not enough.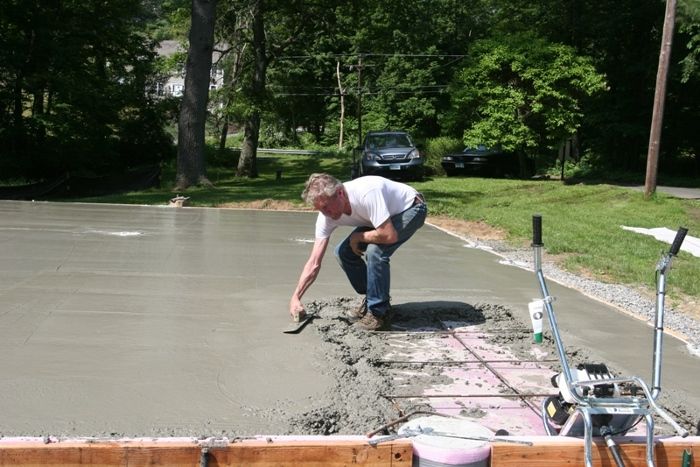 It was about 5 minutes before the mixer was scheduled to arrive when Bill, my professional concrete finisher, asked me, "You ordered 10 yards of concrete, right?" Before I could even answer, I heard the concrete truck buzzing down the road approaching my house. I answered, "No, I ordered 9. We should have 0.2 yards left over." Bill didn't reply, but he told me about 30 minutes later, "I'm scared about 9 yards. I don't think it's gonna make it."
Well, as you probably guessed, Bill was right. I ended up about 1/2 yard short. I knew it as soon as I heard the few remaining pieces of aggregate rattling around in the drum. The driver held up his hands and said, "I'm all out." I ran over to the truck and asked him how long I'd have to wait for another load. He told me, "Probably a half hour. Feeling somewhat relieved, I told my coworkers. Bill replied with a smile, "That's what they always say."
Even with my inexperience, I knew that the void in my slab was an increasingly bigger problem the longer it sat. The resulting cold joint could compromise the entire slab. I asked the driver to call in another two yards, the minimum delivery, even though I only needed 1/2 yard.
Fortunately, the second truck showed up about 30 minutes later and saved my bacon, although this was perhaps the most expensive 1/2-yard of concrete ever. In round numbers, the first truck, with 9 yards, cost about $1000. The second, with 2 yards, of which I only needed a 1/2 yard, cost $430. I'm just thankful that the ready-mix supplier was able to save my slab with the speedy second delivery. Live and learn, I guess. Bill, in his seemingly unflappable style, said, "If there's not some crisis, it wouldn't be any fun."
I guess I agree, but I hope the next crisis is on somebody else's job.
You can read more about my barn here.
This is what happens when the rookie orders the concrete. Even though the truck can easily carry 10 yards, I only ordered 9. My heart sank when I heard the few remaining stones tumbling around in the drum.
At Bill's suggestion, I rented a power screed with a 12-ft. rail. It was a very smart decision. It cost about $180, but eliminated a lot of slow, back-breaking work. And it has the added benefit of automatically vibrating the concrete while it screeds. In a word, it's awesome.
This was my biggest concrete pour ever. It was great to have some experienced hands running the show. Here we are hitting the 24-ft. by 30-ft. surface with magnesium floats. I had the ready-mix plant add 1% retarder to give us a little more time to finish.
We started the pour at 9:00 sharp and finished around 2:00. We covered the surface with 6-mil poly, and I've been keeping the surface wet for a strong cure. Tonight I'll cut a pair of control joints to prevent cracking. In about a week, it should be plenty strong to build on.