Patrick's Barn: What Will it Look Like?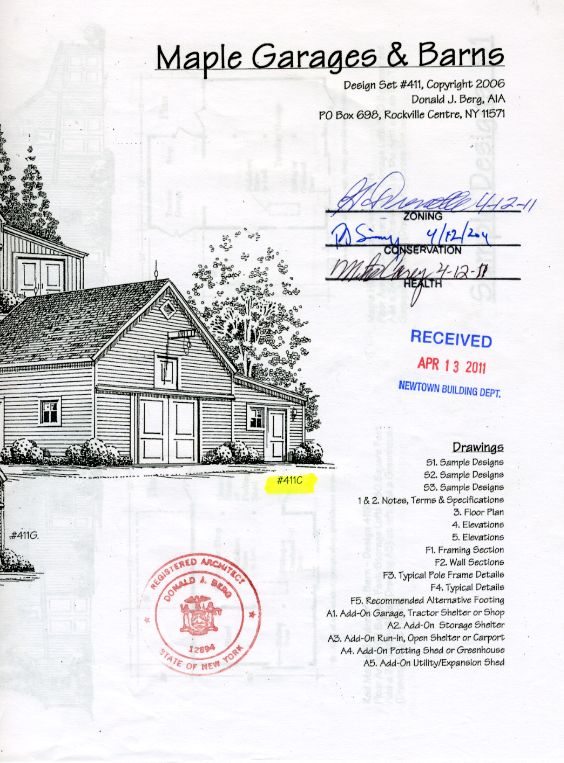 Before I moved to Fairfield County, Connecticut, I spent 10 years in northern Vermont. The building requirements for Vermont vs. Connecticut could be described as radically different. My Vermont town would often issue building permits based on a single conversation with the town's zoning administrator. If you sounded like you knew what you were doing, you'd likely leave with a permit in hand. While living there, I added a second story to my home, with plans drafted on graph paper.
My Connecticut town, in contrast, has several code enforcement officers and requires a half-dozen inspections, including a plan review. Needless to say, when I went before the town requesting permission to build my new workshop/artist's studio, a sketch on a legal pad wasn't going to cut it. And hiring an architect or designer just wasn't in the budget, so my wife and I found a set of plans we liked at Barns, Barns, Barns and ordered four copies. For less than $100, I think we got a great deal. The design is good-looking, the plans are detailed, and the floor plan is flexible. For our Maple Creek Barn, we opted for a shed-roof lean-to on the right side and an open porch on the back.
The building itself is a pole-barn, also called a post-frame building. In this type of structure, PT 6x6s or 4x4s are embedded in concrete and run up to the eaves. Horizontal members called girts receive the siding and provide racking resistance. One problem inherent to this type of building is the main framing members are stuck in the ground where they're subject to rot and insect damage. To solve this problem, Donald Berg, the architect who drafted the stock plans, suggests attaching the posts to concrete piers, which is what we did. Supported on metal post bases more commonly used for decks, the posts are kept dry and insect free.
Because the posts run from ground level all the way to the eaves, you can put doors and windows just about anywhere between them. As a result, we haven't settled on where to put the openings. I'm hoping to get a good deal on something that was misordered or damaged, but the right windows have yet to come along. I'm also hoping that Matt Jackson, who contributes to the Digital Job Site blog here at FineHomebuilding.com, will continue to help out with the window layout.
Read more about my barn here.
The stock plans we ordered from Barns, Barns, Barns come complete with an architect's wet stamp. I don't know if stock plans would fly everywhere, but our town's building department signed off without complaint.
This section drawing shows the "recommended alternative footing" and highlights the designer's skilled drafting and attention to detail. I was really surprised at how thorough the plans are, especially given the low price.
This is how we've configured the building. The larger gable-roof main barn will be my wife's studio space. My workshop will be the 12-ft. by 24-ft. lean-to on the right. An open porch is at the back. The plan set shows a dozen variants to the basic 18-ft. by 24-ft. main building. Lean-to structures for every elevation and every function are shown in the plan set.