Tools & Materials
Torture Test: Sanding Disks
Hook-and-loop sanding disks are disposable items, but we separate the performers from the throwaways.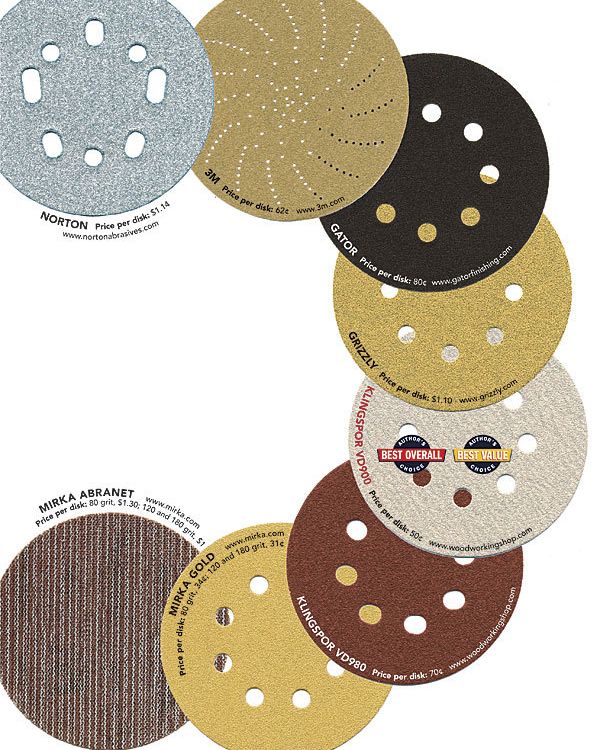 Synopsis: While sanding disks are disposable items, there's no reason you shouldn't invest in the product that gives you the best results for your money. In this torture test, Andy Beasley put eight brands of sanding disks through a variety of tests to determine endurance, stock-removal ability, cutting speed, and cost-effectiveness. After the testing, Beasley rated the Klingspor VD900 as his best overall and best value choice. The other brands tested were Norton, 3M, Gator, Grizzly, Mirka Gold, Mirka Abranet, and Klingspor VD980.
Sanding can seem like a mindless task: Plunk a disk onto a random-orbit sander, and run it until the surface feels smooth. If you value your time and money, though, it's worth asking a few questions first: Do all sanding disks perform the same, or are there noticeable differences between them? Which brands work fastest? Which are the most durable? How long should an individual disk last? To find the answers, the Fine Homebuilding staff searched for a person gullible enough to spend hours sanding the same piece of wood over and over. That's where I came in.
Some twists on disks
I compared the performance of three commonly used grits — 80, 120, and 180 — across eight different product lines. Each disk relied on aluminum oxide as its primary abrasive, although a few added an extra dimension.
Norton disks use a ceramic and aluminum-oxide blend for aggressive cutting, and the Norton, Mirka Gold, and Klingspor VD900 disks have a stearate coating to prevent the abrasive from clogging with dust.
Most of the disks I tested were backed with the commonly used C paper, although the Klingspor VD980 disks used the heavier, and noticeably stiffer, F paper. Mirka's Abranet took an entirely different approach, however, relying on a polyamide fabric with thousands of holes for improved dust collection. The thin fabric has a downside, though: Prolonged sanding with Abranet can wear out the hooks on a sander's backing pad. (Mirka recommends using its pad-protector disk, about $14 for a two-pack, to avoid this problem.)
Five of the product lines featured the usual eight-hole disks that mate with a sander's dust-collection ports. The other designs — Mirka's Abranet, Norton's universal five- or eight-hole style, and 3M's highly perforated Clean Sanding disks — all worked well with my sander. Dust collection was uniformly excellent for all brands tested.
Save time and money
An old saying holds that there are two types of people in the world: those who divide everything into two categories and those who don't. The two-category approach certainly applies to sanding. It seems that everyone either wastes sandpaper to save time, or they flog a disk to its last abrasive molecule to save money. The most important thing I learned is that you can have it both ways: Some disks work both fast and cheap.
Once the dust settled, I rated each disk based on its cutting speed and its cost-effectiveness. For most of the competitors, disk price can be a moving target, depending on where you shop and how many disks you purchase at a time. I computed an average retail price (without tax or shipping cost) based on the purchase of five or 10 disks. Although I could find Mirka Gold and 3M only in lots of 50, buying in bulk will lower your cost per disk if you have much sanding to do.
For more photos and details, click the View PDF button below:
View PDF