Patrick's Barn: The Inevitable Slowdown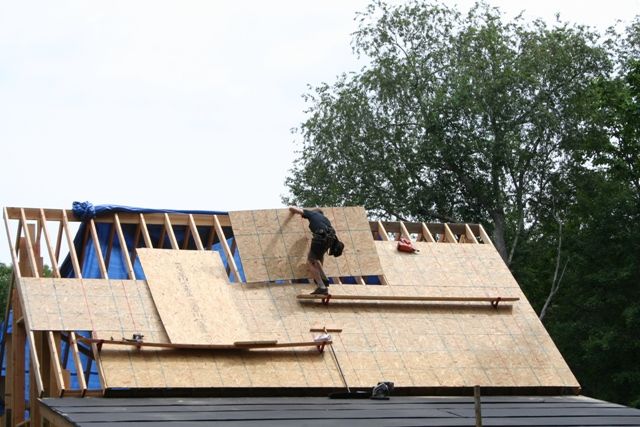 Although I'd like nothing better than to be able to work on my barn for 40, 50 or even 60 hours a week, job and family activities don't allow it. Between traveling to Portland, Ore., for a photo shoot, a long-planned family vacation to Pittsburgh and bad weather in between, it's been about three weeks since I spent any real time on my project. But I try to do something every night after work just to keep things moving and to maintain my sanity. Carpentry is my favorite way to relax.
About three weekends ago I sheathed one half of the main roof on my barn. It went smoothly, but this was the easy side—the one with the shed roof to work from. The other side is this weekend's project. I spent a couple hours last night building a scaffold to reach the eaves.
Since my last blog post, I also took delivery of about 1200 board feet of native white pine that my coworker Dan Morrison saved from the chipper. The huge tree was being taken down on a neighbor's property, and he arranged to have it sawn and kiln-dried. I'm going to use 4/4 stock for vertical siding. I also have a smaller amount of 5/4 that I'll use for casing. It's beautiful stuff, almost free of knots.
You can read more about my barn here.
Sheathing this side of the main roof was easy because I had the low-slope shed roof to work from, and the sheathing was up there and ready to go. The other side, which is this weekend's project, will be tougher. I hope to get it done before Hurricane Irene blows into Connecticut.
One of the problems with protracted projects is materials have a chance to get wet and blow away. Case in point: my 30# felt, which was secured with conventional staples blew up in a thunderstorm. Fortunately, the fix was easy because my coworker, Justin Fink had this cool cap stapler in his office. It works well. The best part: it's ready to go with no setup.
If we didn't have enough going on around the house, my wife is also building a garden. We're trying to use up some top soil left over from prepping the barn site. When combined with some compost, the sandy soil should be great for home-grown veggies. The neighbors keep asking, "What are you guys doing now?"
Last night I spent about two hours building a scaffold to put up the first row of sheathing. It doesn't go the full width of the barn because there's already a couple sheets in place toward the back of the barn. I plan to use our Tracker to stage the OSB sheets before hauling them onto the roof.
It's going to be while before I'm ready for siding, but I already have most of the stock. My coworker Dan Morrison arranged to have a huge white pine tree being cut from his nieghbor's property sawn and kiln dried. Look at the width of this board!