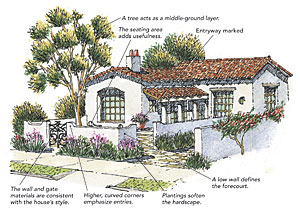 Many houses in my neighborhood have small front yards that are either unused or are treated as leftover space. Creating a garden forecourt in this location provides an opportunity to use the area as a buffer from the street, an entertaining space for family, and a welcoming court for visitors. Small changes are often all it takes to transform the yard and  improve the attractiveness of the house.
Understanding the subtle differences between a front yard and a garden forecourt is important. A forecourt space has  welldefined boundaries with usable spaces within. Its scale is modest, with a depth typically 10 ft. to 20 ft. from the  sidewalk. When viewed from the street, the forecourt should achieve a layering effect, with a foreground (such as a wall or  fence), a midground (such as a tree or plantings), and a background (the house). A common front yard with a lawn achieves  only the background layer.
Simple designs work best
The forecourt design should be simple and should complement the house. Elements such as a seating area, ornamental or  vegetable gardens, pots, small water features, and paths flatter a home. Avoid prominent fountains and other large objects  that compete visually with the house.
I also recommend establishing a relationship to the house. This can be achieved by using forecourt elements to create or  emphasize views to the entry of the house, to highlight primary features of the facade, or to introduce a new focal point.  A landscape feature such as an arbor, for example, can create an attractive, eye-catching element that emphasizes an entry.
A forecourt connects a house to the street
Before This Mediterraneanstyle home is recessed from the street and, with nothing more than a concrete walkway, can be perceived to be somewhat disconnected. Adding a transition space in the form of a garden forecourt increases the welcoming appeal of  the home while adding character to its entry.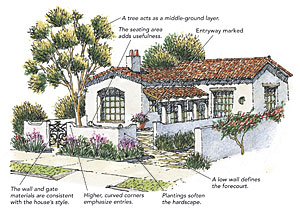 After In this example, a forecourt is defined by low stucco walls that match the house. These garden walls can be either attached to or detached from the main structure. The intention here, however, is that they appear to be a continuation of the exterior facade. The forecourt may have one or multiple access points depending on the level of privacy desired. In this case, two entries to the court lead to a semiprivate outdoor seating area and a secondary service area. The front access is centered on the court and accented with an ornamental iron gate. The secondary access connects to the driveway.
Establish boundaries
The first task is to establish the boundaries of the forecourt. A low stone or brick wall or an ornamental wooden or iron  fence defines private space while creating a buffer to the street. When introducing a fence, it's important to maintain  transparency and to use appropriate materials. Natural materials are a good investment. The selection of rusticated or  uniform dressed stones, for example, sets the tone for the rest of the forecourt as well as the way the house is perceived.  Stone walls generally should not exceed a few feet in height. Wrought-iron and painted-wood pickets are also good choices  and, due to their transparency, can be higher.
Identify the layout
The size and topography of the forecourt influences its layout. The front yard may have a formal layout, with an entry aligned with the front door, or it may have a more informal, offset orientation. Also, the forecourt layout should have some correlation with the house design. Formal layouts go well with neoclassical or colonial-style homes.  Informal or organic layouts go well with contemporary, Craftsman, or Mediterranean-style homes. The house's entry may be revealed through a formal layer of plantings or along a meandering path.
In a small garden forecourt, it may be appropriate to make a landscape feature the prominent, eye-catching element and complement it with layers of small plantings. In a larger garden, there are greater opportunities to incorporate a more elaborate layout. Focal elements, gathering spaces, and a picturesque entry may be part of the design, as well as smaller, semiprivate spaces.
For a contemporary house, an informal approach This contemporary home demonstrates an informal forecourt layout with irregular forms that work well with its asymmetrical design, including its offset main entry and outdoor porch. The open layout, curved paths, and plantings delineate the seating area and lead to the main entry. The forecourt boundaries are defined with horizontal, unpainted wood-plank railings that complement the contemporary design.
For a traditional house, a formal approach This example shows a traditional home with a small front porch and a formal forecourt and vegetable garden. The formal layout works well with this design to accentuate the entry porch and the symmetrical gable roof of the house. A wooden arbor and an entry path emphasize the view to the porch as the focal point. In executing this approach, special attention should be given to the craftsmanship and materials of the arbor and fence design. Posts should look substantial, and the arbor should have an overhang of at least a few inches on each side. Use natural, weather-resistant wood for the fence and arbor, with either a painted or unpainted finish.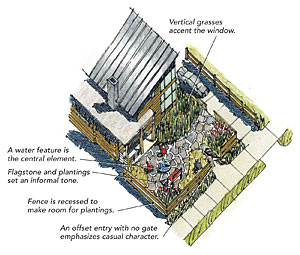 For a contemporary house, an informal approach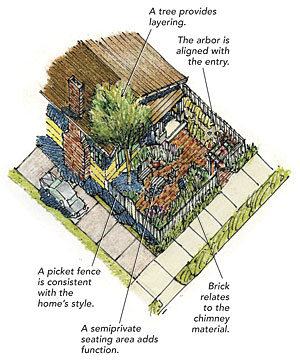 For a traditional house, a formal approach
Create an inviting, usable space
Pay attention to the proportions of the outdoor space being created. Squares typically work well to accommodate various uses. For a sitting area, I recommend a space at least 6 ft. by 6 ft., with an additional 1-ft. minimum around the outside for plantings. This space can accommodate a table and four chairs.
Another approach is a rectangular space to accommodate a bench or a pair of chairs and some pots. In this case, I recommend an area measuring at least 6 ft. by 4 ft. The general rule is to avoid spaces that are too long or skinny in their proportions.
For an inviting forecourt, I recommend using a balancebetween hardscape and plantings. The choice of plants and high-quality hardscape materials can accent the style of the home. For example, gravel and structural plants such as horsetail grasses relate well to modern designs, while brick and a softer layering of plants relate well to traditional designs. I also recommend providing some vertical plantings within the landscape to enhance the style of the home. Roses, for example, go well with Tudor or colonial-style houses, while Japanese maples complement Craftsman-style houses. In all cases, choose plants that are low water consumers and are suitable to your local climate.
Drawings: Roxana Vargas-Greenan