Making a Room Under a Deck
A remodel can create an inviting, usable living space under the deck.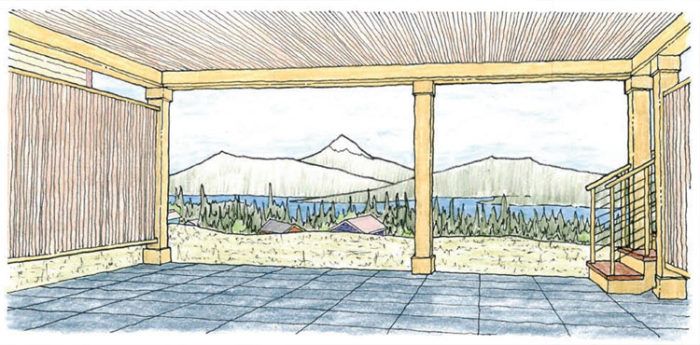 As an architect specializing in small-home design, I'm always looking to get the most out of the spaces people have available in and around their homes. With this in mind, I often see a great opportunity to gain outdoor space under raised decks. With a little thought and a little extra effort and material, this under-utilized area can add to the appearance, comfort, and value of your home.
Not only is this a project for capturing additional outdoor living space, but defining the area under your deck will also add character. Let's face it — the spaces under most decks are less than attractive. If there are doors or windows looking out below the deck, this is true when viewed from the outside as well as from the inside. Creating another room outside the house allows us to perceive the house as larger.
Before designing the space under a deck, be sure to address the challenge of waterproofing the underside of the deck with a manufactured or site-built drainage system. From a design point of view, it's also important to evaluate the space to be sure you are comfortable with its opportunities and limitations — specifically that headroom, access, orientation, drainage, utility runs, and so forth all work in your favor.
The key to making this all work is transforming the space under the deck so that it has a roomlike feel. This means creating and defining a floor area, adding the perception of walls, and designing an appealing ceiling plane. The same concepts can also be applied more broadly when adding any outdoor living area to the house.
Flooring defines the space
Ideally, the floor area has about the same footprint as the deck above and can be finished with gravel, poured concrete, concrete pavers, wood, or composite decking. For gravel, a border edging to contain the stones and define the footprint is important. A concrete pad will be more interesting if it is scored with a pattern (perhaps mimicking tile), has a sanded finish, and/or has an integral or applied color added to it. Many concrete-paver choices are available, but I recommend keeping it simple by choosing materials that are already used in other parts of your property whenever possible. This will help tie the underdeck design to the rest of the house. Decking is also an option, particularly duckboards, which are tile-like sections of decking installed on grade that are removable for cleaning.
For more illustrations and details, click the View PDF button below:
View PDF