Patrick's Barn: We have a roof!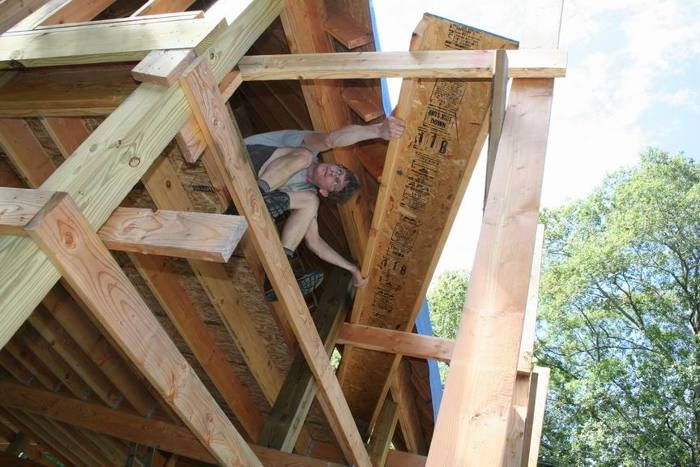 It's been a while since I last posted, but we're still making progress on the barn. I've been feeling an increased urgency since I noticed the leaves falling with alarming regularity. About two weeks ago, I took down the scaffold I had erected on the second-floor deck to raise the ridge and rafters. I used the stock to build another scaffold so I could shingle the eave on the main gable.
Working up there, I felt quite secure because I included a handrail with an intermediate support. High work is much nicer when you have a sturdy platform that you can trust with your life. I also knew my son would insist on climbing up there to check things out, so I made everything extrasturdy.
Next on the agenda is siding and window installation. I'm using verticle siding made from native pine. The stock, which was sawn locally, has live edges. I'll have to straighten them so I can rip the boards to a uniform width. I also plan to shiplap them, so I'm trying to figure out the best way to do so. I'm thinking a dado set in my portable tablesaw will be the fastest way. I plan to build infeed and outfeed tables to make the job safer and easier. If you've ever done anything like this, I'm hoping you'll share your experience.
Read more about my barn here.