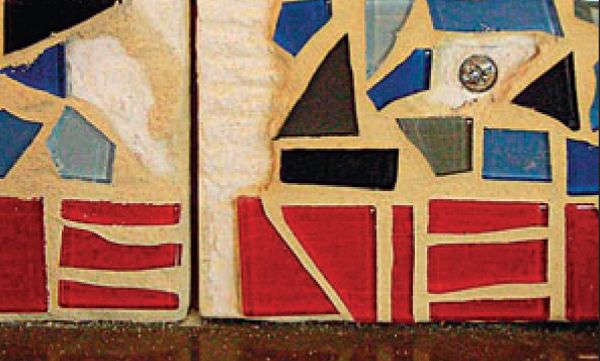 by Maureen Friedman
When planning her kitchen remodel, designer Alexandra Immel's vision included a colorful backsplash but excursions to tile stores left her disappointed with the choices. Although she had never tried tiling, the avid knitter who cites textile designer Kaffe Fassett as one of her muses knew she was skilled at putting colors together. How hard could it be to create a colorful vision with tile?
Working with Seattle Mosaic Arts, Immel made templates of her kitchen's backsplash, dividing it into four zones. Then she experimented with bits of glass and ceramic tile, creating patterns and color combinations. Once she had a pattern she liked, she taped contact paper (sticky side up) to the templates, and went to work setting the tiles in checkerboard rows and spinning pinwheels of color. Tiles arranged, Immel "face-fronted" the tiles with tile tape, which is a clear, stickier version of contact paper, and peeled the tiles away from the templates. Then she used thinset mortar to adhere the tiles to 1/4-in. thick tile backerboard cut to the template dimensions.
When the thin set dried, Immel peeled off the tile tape and grouted the panels leaving a few areas without tile and grout to provide screw holes to affix the panels to the wall. Then she filled the screw holes and gaps between the panels with tile and grout. The backsplash is anchored by a strong base of dark, rich colors while the iridescent tiles at the top catch the under-cabinet light.
From Fine Homebuilding #223 K&B 2011
Portions of each mosiac tile panels were intentionally left tile and grout free to allow for screw holes for easy installation of the panel to the wall.
Designer Alexandra Immel's kitchen with mosaic tile backsplash.
After the panels were screwed into place, the missing tiles and grout were installed.