Design
Laundry-Room Trifecta: Hamper, storage area, and drying racks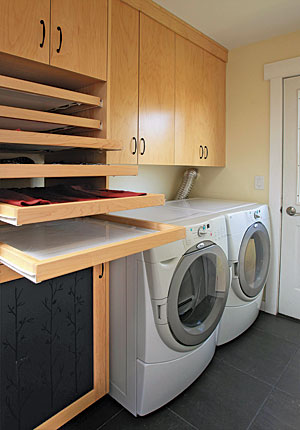 Tucked in a hallway that leads to an exterior side door, our laundry "room" was neither functional nor attractive. Outfitted with just a washer, a dryer, and two sagging particleboard shelves, this room was in need of a complete makeover. Our wish list included plenty of storage, a well-ventilated hamper for damp clothing and towels, and a sturdy, attractive replacement for the flimsy portable sweater-drying racks cluttering up other areas of our home.
Our friend Chris Yahvah, a cabinetmaker, came to the rescue. He designed and constructed of birch plywood our three-component custom laundry-room organizer. Fitted into the area beside the washer, it includes an upper cabinet for storage, center racks for flat-drying of delicate items, and a lower cabinet to house a freestanding hamper and wastebasket.
Open to the room, the center component is 24-1⁄4 in. wide and 25 in. deep and is fitted with a series of drying racks. Each rack consists of a frame mounted on drawer slides to allow the rack to slide in and out of the cabinet. Chris fitted each frame with brushed-steel 3⁄8-in.-dia. rods to create supports for the drying-rack surface, which is made of a lightweight mesh fabric similar to that used for lingerie laundering bags. The edges of the fabric are finished with seam binding and Velcro tabs. It then wraps over the top of the rods, and the Velcro tabs attach underneath the material to create a snug fit that also allows for removal should the mesh need repairs or laundering.
Ventilation for the drying rack is aided by a 2-in. gap between the right side of the drying-rack cabinet and the back wall. We have not had to deal with moisture problems, and there has been no water dripping, warping, or staining anywhere. This includes no damage to the front of each drying rack even when large sweaters hang over the wood. One reason for the lack of damage may be our high-efficiency washer, which is good at getting excess moisture out of clothes.
Chris designed the metal insert panel of the lower unit's door to be not only decorative but functional. A metalworker friend of his scanned the design of our choice to the metal panel, cut it out with a plasma cutter, then powder-coated the metal. This open-work design allows for air movement, decreasing the chances of mildew forming in the cabinet and in the removable plastic hamper.
With the addition of this custom unit, plus the two 16-in.-deep cabinets mounted above the washer and dryer, our laundry room is now both functional and attractive. This project was not inexpensive, but it was worth every penny.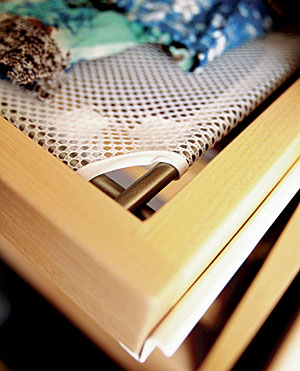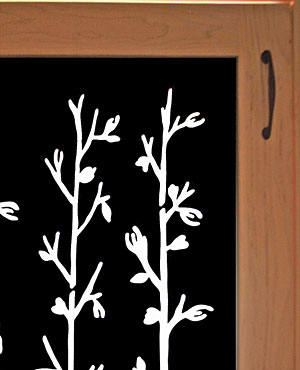 Photos: courtesy of Kenton Rowe