Patrick's Barn: Oh Boy! Mountains of Polyiso Insulation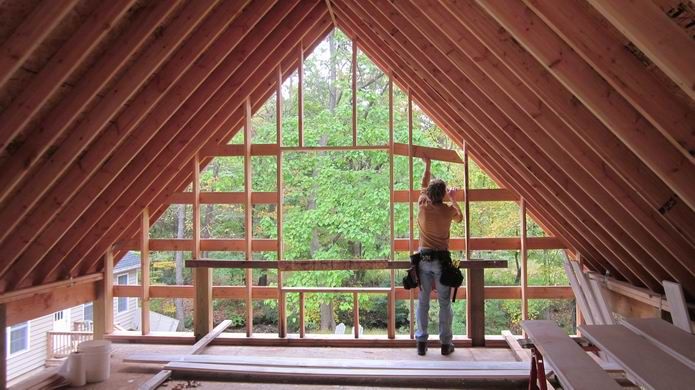 This morning was the most exciting day on our barn project since we poured the slab. We took delivery of 2-1/2 pallets of fiberglass-faced polyisocyanurate insulation. We bought it from Insulation Depot, a company in Framingham, Mass., that salvages the stuff from commercial roof projects. I placed the order on Tuesday and received the material Friday morning.
The plan is to cut some of the 4×8 panels to 16-in. widths and fit them between the horizontal framing members (girts). We'll put a second layer on the inside of the barn and stagger the seams. If we have enough, we'll also cut panels to fit inside the rafter cavities in the sections of sloping ceiling up in the loft. With some judicious air-sealing, we should have a supertight shell.
I was impressed with the condition of the salvaged material. The company even sent a half-pallet extra—so we don't complain about any broken pieces, I suppose. If the weather is good, we should be installing foam and hanging siding this weekend.
Read more about my barn here.
About a month ago (before the big storm), I finished up the remaining framing on the main barn's gable ends. Here I'm installing girts on the outside of the studs. I need to do this because we're installing vertical siding, which needs horizontal framing for fastening.
Here's the material after we finished. The insulation is 1-1/2 in. thick in 4x8 sheets. The pile is 5 ft. high, 8 ft. wide, and 16 ft. long. All the broken pieces are in the front; the two back piles are free of defects. The cost of the insulation was $1100, and shipping from a warehouse in NJ to my CT home cost another $400. I think we did pretty good for $1500, and we saved a ton of material from ending up in the landfill.
The foam was delivered to me in a 53-ft. tractor-trailer. The driver was a very good sport about negotiating my residential neighborhood. It took us about 30 minutes to unload the panels from the truck (by hand) and another hour to restack them neatly close to the barn.