Seattle Homeowners Build an Affordable Net-Zero-Energy House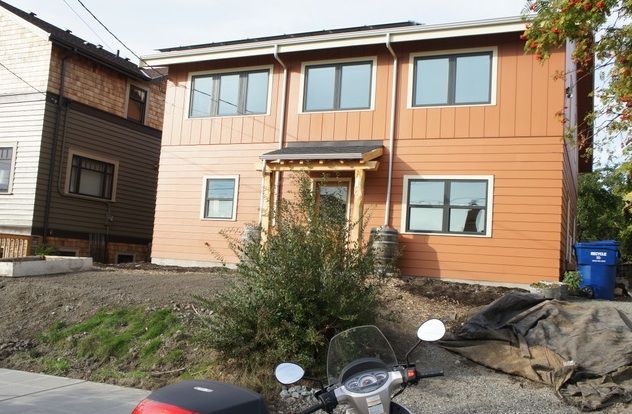 Eric Thomas and his wife, Alexandra Salmon, have bought into the energy efficiency thing in a serious but not, it turns out, extremely expensive way.
They purchased an infill lot in Seattle's Ballard neighborhood for $180,000. By the end of May, work had commenced on what would become their 1,915-sq.-ft. three-bedroom home, whose design, from Zero-Energy Home Plans, was intended to bring the performance of the building close to net zero energy while also minimizing construction costs. A 6.3 kW photovoltaic system was installed on the roof – enough PV capacity to bring the house to NZE on an annual basis, the project team calculated.
Thomas and Salmon ended up spending $417,000, which includes the lot purchase but excludes revised plans and engineering costs, which came to less than $5,000. The couple also will be eligible for a 30% federal tax rebate on the PV installation, which so far has produced a 1,000 kWh power credit for the home that can be drawn on this winter.
Insulation and airtightness
The building is insulated with 4 in. of extruded polystyrene under the slab and with perimeter XPS down to a dept of 2 ft., around the stem wall. The exterior walls are constructed of structural insulated panels and, with all drywall and siding in place, provide R-26 thermal resistance. The roof is built to R-41 with 10.25-in. SIPs. Airsealing was thorough enough to yield only 0.56 air changes per hour at 50 Pascals pressure difference.
Among the other elements key to the performance of the building envelope, says Zero-Energy Home Plans founder Ted Clifton, are its triple-glazed windows, which were made by Vancouver-based Vinyltek using Cardinal LoĒ-i81 glass. Center-of-glass U values are as low as 0.12, with visual transmission of as much as 63% and a solar heat-gain coefficient between 0.15 and 0.51, depending on the orientation of the window. "We are getting very close to being able to put glass wherever we want it, without sacrificing envelope performance," Clifton wrote in an email to GreenBuildingAdvisor.com.
A Unico UniChiller air-to-water heat pump helps serve both the radiant in-floor heating system and the domestic hot water system. The latter is supplemented by a standard electric hot-water heater. In Seattle's marine climate, Clifton says, the entire system operates at a very high net efficiency – a minimum of 212% in winter – even while delivering 120-degree domestic hot water.
Positive airflow (and positive homeowner response)
Air handling devices include a Panasonic motion-sensor bath fan, a Fantech CM3000 high-efficiency particulate air filter (which serves as an air inlet for makeup air distributed to the bedrooms and main living areas while the bath fan is running), and a remote-mounted kitchen range fan (206 cubic feet per minute). Both the range fan and bath fan are operated with a single control that keeps them synchronized.
Having lived in the house for about three months, Thomas and Salmon say they've found little to complain about and plenty to like. Vibration from the heat pump compressor has been traveling through the pipes, a problem they hope will be reduced with the installation of rubber mountings. But so far, that's about it for the negatives. They're far more focused on spreading the word about the energy efficiency of the building and its relatively low construction costs.
"We're trying to spread the word to our neighbors that net-zero building doesn't have to cost much more than building to code (and is significantly cheaper over the long run)," Thomas noted in an email, adding that "we built the house for about the same price as a nearby townhouse on a shared lot that was completed around the same time. That's not to say that anyone can afford to build a house, but we think our house is evidence that net-zero building doesn't have to be the purview of rich retired people or newly minted millionaires."
The shell of this 1,915-sq.-ft. home was built with structural insulated panels according to a plan developed by Zero-Energy Home Plans, based in Coupeville, Washington. The project was completed in September and has been occupied since October.
Four inches of extruded polystyrene was installed under the slab, bringing its thermal resistance to R-20. The perimeter of the slab also was insulated with XPS down to 2 ft., the height of the stem wall. The floor radiant system and domestic hot water are served by a UniChiller heat pump, with an electric water heater supplementing the domestic hot water.
Structural insulated panels helped bring the exterior walls to R-26 and the roof to R-41.