Patrick's Barn: The Dirt-Cheap, High-R Building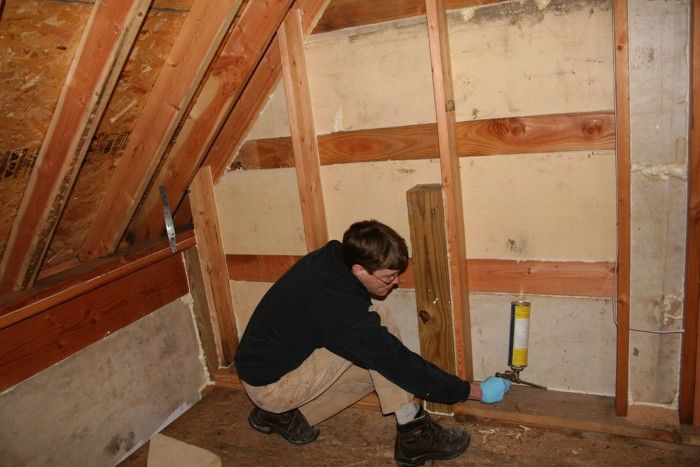 You may recall my large purchase of salvaged polyiso insulation. After finishing the walls with two layers for a supertight R-21, I'm moving on to the rafter cavities, where I plan to put in three layers for R-31. If I still have material left over, I'll install a fourth layer in the attic.
I think the inexpensive ($1500) polyiso board was one of our smartest construction decisions, but it does have drawbacks. It is very slow to install, for starters. A spray-foam crew could easily insulate the whole building in a few hours, but I'd guess we already have close to 30 hours into our insulating and air-sealing efforts. My guess is we have another day or two (at least) of finishing up. Cutting the 4×8 sheets to fit inside the rafter cavities is also slow and nasty work. The sheets cut like butter on the tablesaw, but the spinning blade through the fiberglass facing produces a lot of very itchy dust. A respirator is a must. But I think the drawbacks are easily tolerated for such an inexpensive wall with good thermal performance.
I've also been installing vinyl siding on the exterior. My wife helped me put up the pump jacks on the south wall, our highest elevation. That work is now done. I'm embarrassed to say I didn't have a card in the camera when I snapped a photo of the staging at its maximum height with a stepladder on top. With a cleat nailed to the staging planks and the ladder tied to the closest collar tie with a rachet strap, I climbed that ladder perhaps a dozen or more times while siding the upper reaches of the gable. I'd be lying if I said I wasn't scared, but it was all worth it when I was finally able to climb down, look up at the wall, and savor a beer.
You can read more about my barn here.