Mounting Deck Ledgers to Floor Trusses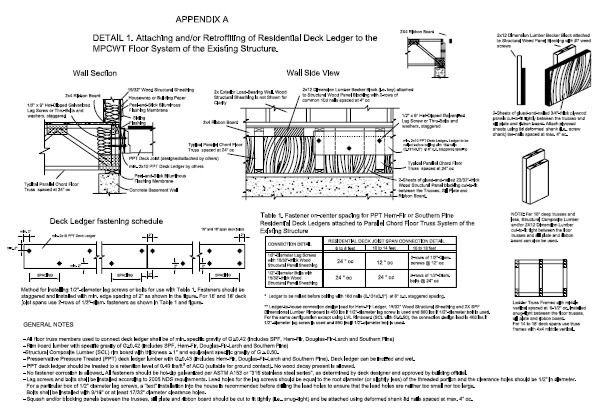 You have to be especially cautious when mounting a deck to a house with an open-web floor truss system.  Floor trusses usually have a 2×4 or 2×6 ribbon board along the top edge but it's inadequate for ledger attachment. Nor can you generally just screw into the truss web. Ideally, you can determine who designed and fabricated the floor truss system and contact the company for a deck ledger attachment detail. Most truss fabricators I've worked with have standard details for truss blocking and reinforcement at deck ledger positions.
The Structural Building Component Association (SBCA) has five details that illustrate general blocking and reinforcement of floor trusses for ledger attachment in their "Attachment of Residential Deck Ledger to Metal Plate Connected Wood Truss Floor System" Tech Note.
Many of these details are easy to install when the house is being framed but are much more complicated to retrofit especially when the interior has been finished.  When I encounter an existing house with floor trusses, I almost always design a free-standing deck.
Also, read the other articles in the difficult-deck-ledger series:
Mounting Deck Ledgers to Engineered Floor Systems