May is Deck Safety Month – Check Your Deck!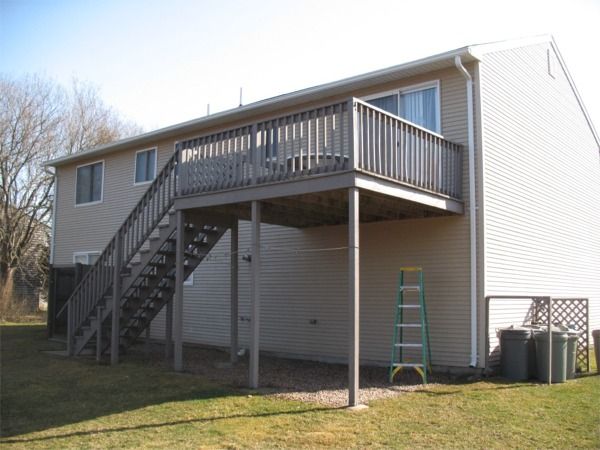 May is 'Deck Safety Month'.  Last month when clocks shifted to daylight savings time you changed out the batteries in your smoke detectors (right?) so this month it's time to check – your – deck.  Decks on the verge of falling down generally don't look any different than safe decks.  You have to take a close look in order to see if problems exist. And don't take deck safety lightly; injuries sustained from a deck collapse can range from scraps and bruises to loss of limb or life.
Your deck may seem solid and secure until one day it falls off the house.  Deck collapses are more common than you may think.  In early April five people were injured in a New Jersey deck collapse. In mid-April another deck failure near Syracuse, NY hospitalized five and injured several others.  Even my tiny state of Rhode Island had a deck collapse the week before last from a condo injuring two.  And I'd guess that many near-trageties go unreported.
I inspected a 15 year old deck in March.  From 30 ft. away it looked fine but when I got closer it was easy to see numerous deficiencies and outright negligent workmanship (see photos).  The deck could hang on the house for another 15 years without failing – or it could fall down tomorrow.  If the deck was 1 ft. or 2 ft. off the ground it would have been less of a concern but this one is about 10 ft. high.
It's amazing how many decks fail each year.  According to NADRA (North American Deck & Railing Association), between 2000 and 2008, there were 30 reported deaths resulting from deck failures.  And many thousands of people landed in emergency rooms due to deck, railing or deck stair failures annually.
The warm spring has many of us enjoying our decks earlier than usual.  Before we get too deep into the spring and summer, take 30 minutes to inspect your deck.
For further information on conducting a deck inspection yourself, check out this interactive deck safety graphic.
There are dozens of individual inspection points on a deck and some aren't easy to see.  If you are concerned, have a contactor who specializes in decks do the inspection.  Contractor members of NADRA generally follow a deck evaluation checklist developed by the organization.  And NADRAs consumer checklist describes both deck inspection points and general deck safety considerations.
15 year old deck looks fine from afar, but closer inspection reveals numerous safety issues.
  Joist hangers are missing nails Improper nails used in hangers: roofing and 6d commons Hanger corrosion - red rust Small (5/16 in.) lag screws without washers attach ledger to house. Too few fasteners mounting the ledger.  
Ledger flashing is puny.  The wall leg barely rises above the decking surface.  And the housewrap doesn't lap over the flashing.  Plus the flashing is thin uncoated aluminum that's beginning to corrode.  There is evidence of decay in wall sheathing.
Big 'YIKES' There is no beam to carry the outboard end of the floor joists.  Just a single 2x8 rim joist carries the joists. The rim joist is only nailed to the posts.  There is no positive bearing and signs of the members separating.
Another big 'YIKES" It's obvious that the stringer is split up the middle - that problem distracts you from other more concerning issues. The stair stringers land on a 2x10 that's just nailed to the 4x4 posts.  See next photo for more scary stringer troubles. Note the rim joist / beam just nailed to the posts....
The stringers are just nailed onto the head board (which in turn is only nailed to the posts).   You can see the stringer separating - it's only a matter of time before the stairs come crashing down.
The guardrail balusters are squirrly to say the least.  Well more than 4 in. between them now.  
Even when the balusters are straight, the space between them exceeds 4 in.  Code limit is less than 4 in. spaces