Self Taught MBA: Decoding Your Sales Factor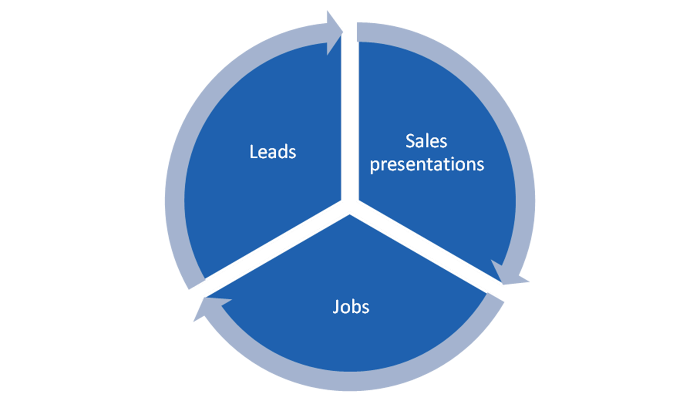 One of the first metrics you need to know about your business is how much business you need. Most of us have a gut feeling about it, for example, when I was building affordable homes out of a basement office, I needed to build and sell about ten little homes a year to make roughly $100,000. Perhaps you may need to complete one large remodel project every two months, or run five service calls a day, but there's a sweet spot where your operation remain manageable and your earnings sufficient.  Regardless of what net makes you comfortable, $100,000 or $500,000, to maintain an adequate flow of work you need the phone to ring with prospective customers-you need leads. How many? That depends on your conversion factor.
The conversion factor represents the average number of leads you work with – or sell to – for every job won. In other words, how many prospective customers call you before one of them signs a contract? Most consultants I speak with say a conversion rate of roughly 10% is both doable, and represents a factor low enough that you're not giving away your work. If you need to sell 10 houses, like I did, and thus engage 100 prospective homeowners, that's roughly two sales calls per week.
You can calculate your conversion factor using a complex algorithm that accounts for the number of calls to your office, and number of follow-ups scheduled, divided up by how many turned into estimates and the dollar amount of each estimate as a percentage of your annual gross sales targets, etc. I'm sure a high price consultant in your area would be happy to complicate your life with this approach, and then you'd probably discover you don't have time to keep with it. So let's keep it simple with a two step process.
Most of us have a record of how many customers we have engaged seriously, to whom we've given estimates or engaged in a sit-down sales presentation. You can start with this figure. Let's say you engaged five potential clients this month in a series sales effort, and one of these engagements turned into a job. Track this activity for a few months and you'll find a pattern, and then you'll easily calculate a sale-to-contract conversion rate. In this case, it would be 20%, or five sales efforts per sale. 
Now, you need to translate this factor into a meaningful target for your marketing plan, which requires one more step. You'll need to keep a log of the calls you receive to find out how many people inquire about your company before one of them is sitting with you seriously considering your services. To get to make five sales presentations, you may need 10 inquiries. I'm simplifying the numbers to make my point, but if 10 inquiry calls yields five sales presentations to land one job, you now know that you have a 10-to-1 conversion factor.
Now that you know your conversion factor, you can gauge the effectiveness of your marketing strategy.
Word of mouth worked well during the salad days, when every contractor had more jobs than he or she could handle, but now you may need to generate new leads. The old way to get your name out was the phone book and advertisement in the local paper, but not anymore. Most people want more than an ad, they want to pre-qualify you through a visit to your web site. A new breed of consultants now offer social media marketing packages that promise web site traffic. We'll discuss this later, but one tried and true way to establish your brand without buying advertisement is through positive stories about your company in the local press-stories about you, and also by you.  This is an area I know well, and will elaborate on my next post.
Until then, I'd be curious to know about your successful marketing efforts, and if decoding your sales conversion factor makes practical sense for you. 
Read more articles from the Building Business blog.