Spraying Polyurethane Foam over an Existing Roof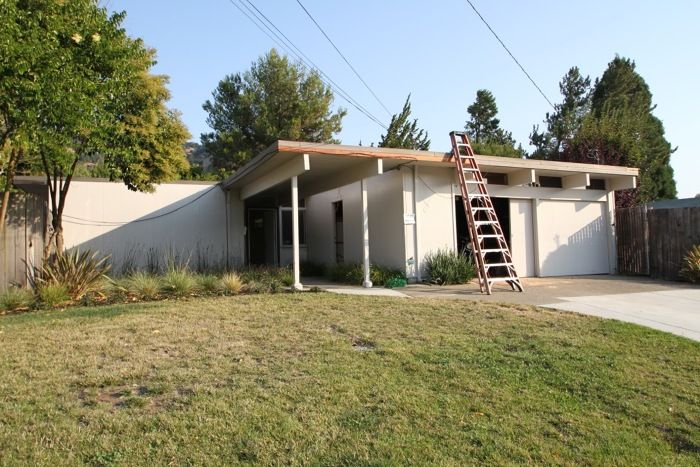 The Shoup household has many shades of green. Taya is a landscape architect and Stephen is the principal of buildingLab, a green design-build firm in Emeryville, CA, whose reincarnated shipping containers were chronicled in the GBA posting, "Creating an Urban Oasis."
When the old tar-and-gravel roof of their 1957 Eichler-designed house began leaking, Taya and Stephen began researching replacement roofs that would be energy-conserving, leak-proof, cost-competitive and reasonably green. As the house's roof sheathing doubled as a finished ceiling, the old insulation was scant. They broiled in the summer and bled money during the heating season.
Ultimately, they chose a closed-cell, sprayed polyurethane foam (SPF) retrofit–sprayed over the old tar-and-gravel roof–because:
1. Insulating inside was out. The exposed underside of the 2×6 T&G roof deck was classic. Besides, the ceilings were just a shade above 8 ft. and the couple didn't want to lose 4 in. to 6 in. of headroom to insulation.
2. Closed-cell SPF, with an R-value of 6.5 per inch, was the perfect antidote to the old roof's dismal energy profile. The old roof assembly, with two layers of 1/2-in. fiberboard, achieved (maybe) R-3 or R-4. Four inches of SPF would bring it up to at least R-26; six inches would bring it to R-39. Spray foam was also particularly well suited to this roof because it had parapets, which defined the edges of foam. (Exterior spray foam only works on flat or low-pitch roofs; for pitches greater than 4/12, rigid foam panels are the over-roof-deck choice.)
3. A spray-foam roof could be applied directly to the old roofing once it was prepped and cleaned up a bit. Not stripping the old roof and sending the debris to the landfill was also a big green plus. Besides, spraying-over would save the labor costs of stripping the old roof.
4. Four inches of closed-cell polyurethane is a Class II water retarder, a semi-impermeable membrane that makes leaks all but impossible. As the foam expands and adheres aggressively, it would seal the many pipes and conduits running across the roof of a house with no cavity under the sheathing in which to hide pipes.
5. Compared to the obvious alternatives, an SPF roof was actually less expensive than installing and then insulating either a new torch-down roof or a PVC membrane. And that didn't even include the cost of stripping the old roof. There were energy-efficiency rebates available for installing an SPF roof but the couple was so busy that, as Stephen put it, "We couldn't afford the time to save money."
6. So was this spray polyurethane foam a green choice? Yes and no, but mostly yes. Since the early days of sprayed foam insulation (the earliest foams were urea-formaldehyde based), the insulation industry has cleaned up its act a lot. Although the two chemical components of SPF are largely petroleum-based, once the polyurethane mixture foams and cures, it is chemically inert and doesn't off-gas. (Manufacturing PVC, in comparison, involves some particularly toxic chemicals.)
Not sending old roofing to the dump is a plus, as is the excellent R-value of SPF foam. (Some times it takes oil to save oil.) An SPF roof can also be quite durable when the polyurethane is sprayed with a special acrylic top coating that protects the foam against UV degradation. Lastly, the foam's light color will reflect sunlight so, all in all, it should be a relative cool roof.
This posting was excerpted from Renovation 4th Edition, newly published by Taunton Press. R4 contains the collective wisdom of hundreds of master builders and tradespeople–whom I began interviewing when I helped launch Fine Homebuilding. R4's 614 pages contain 250+ technical illustrations, roughly 1,000 photos (of the 40,000 I've taken over the years) and thousands of field-tested tips and techniques. I hope you find it useful. – Mike
© Michael Litchfield 2013
The flat roof of this 1957 Eichler-designed house was a good candidate for a polyurethane spray-foam roof.
A good deal of prep work must precede the foam-spraying. Here, electrical conduits running above the roof had to be raised so they would be accessible after 4 in. of foam was added. 
Polyurethane foam can be sprayed right over old roofing--a big selling point--but the old roof must be clean and well attached. Here, a worker installs tabbed roofing nails every 2 ft. to 3 ft. to secure the old roofing.
Spray foam adheres aggressively, so it's important to mask everything you don't want foamed. Here, polyurethane foam is being applied to the chimney. In the background, the masked-off parapet.
Polyurethane foam expands to seal everything sticking out of the roof. Once sealed with a special acrylic top coat, the polyurethane foam will be protected from UV degradation. Once cured, the close-cell foam is also strong enough to walk on.
Renovation 4th Edition contains field-tested tips and techniques that hundreds of master builders and tradespeople shared with Mike Litchfield, a founding editor of Fine Homebuilding.