Airtight Wall and Roof Sheathing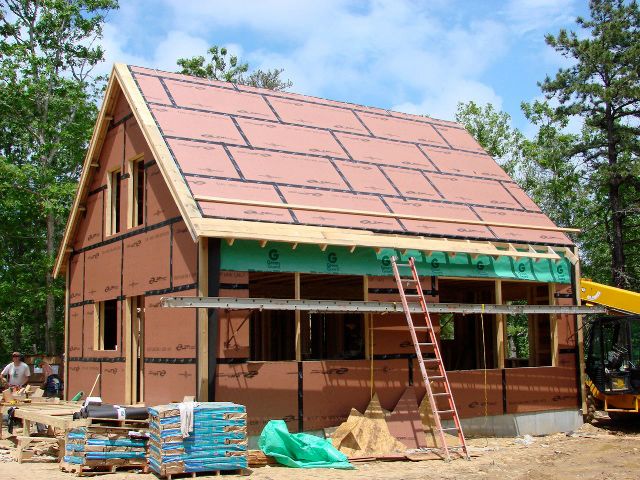 Arguments in favor of exterior air barriers
In the early 1970s, residential builders knew almost nothing about air tightness. The first residential air barriers were installed in Saskatchewan in the late 1970s, when pioneering Canadian builders began sealing the seams of interior polyethylene sheeting with Tremco acoustical sealant. The Canadian builders (and their American imitators) went to a lot of trouble to weave the interior poly around framing members at rim-joist areas and partition intersections.
A few years later, Joseph Lstiburek perfected and promoted the Airtight Drywall Approach (ADA) to air barriers. The ADA system required gaskets or caulk between drywall and wall plates on exterior walls; any electrical box in an exterior wall needed a special flange to allow it to be caulked to the drywall.
These days, some builders approach air sealing like all-out war, and try to make everything as airtight as possible. These are the builders who caulk their sheathing to the studs, and then install housewrap with taped seams, and then caulk their drywall to the studs for good measure. Before the blower-door contractor shows up, they run around the house like a chicken with its head cut off, squirting spray foam into every hole and crack. This approach – let's call it "if one air barrier is good, three air barriers are even better" – works, except when it doesn't. (Sometimes it makes more sense to have just one air barrier that is well defined rather than to wage an all-out but somewhat random war against air leakage.)
An exterior air barrier at the wall and roof sheathing
There's a growing trend among builders concerned about air leakage to establish the air barrier at the exterior wall and roof sheathing. Typically this requires sealing the seams of the OSB or plywood sheathing with tape – either peel-and-stick tape or the proprietary Zip System tape from Huber. (If all insulation is on the exterior side of the sheathing, it's also possible to cover all of the exterior sheathing with Ice & Water Shield – a method called PERSIST.)
Carried to its most logical expression, this approach requires buildings to be framed without any roof overhangs at the eaves or rakes. That way it's easy to seal the transition between the wall sheathing and the roof sheathing. After the air barrier is established and sealed, framers can build rake and eave overhangs as separate elements attached to the exterior sheathing.
Simple and verifiable
Marc Rosenbaum, an energy consultant who works in New Hampshire and Massachusetts, described the advantages of this air-barrier system at a presentation he gave on February 10 at the Better Buildings By Design conference in Burlington, Vermont.
Rosenbaum began his presentation by reminding the audience of the characteristics of a good air barrier. According to Rosenbaum, an air barrier needs to be (a) impermeable to air; (b) continuous; (c) strong enough to resist the forces acting on it; and (d) durable. Rosenbaum doesn't use rigid foam as an air barrier; in his opinion, it's too flimsy to pass the durability requirement.
Rosenbaum explained, "I've tried interior air barriers. I've had Tremco acoustical sealant all over my hands. Airtight drywall is not easy. The approach takes lots of careful workmanship and you can't really test it until you're almost done. Exterior sheathing is easier to seal, and sheathing is durable."
Rosenbaum pointed out that, compared to an interior air barrier, an exterior air barrier:
Summing up, Rosenbaum said, "Why do I like an exterior air barrier? Because of partition walls, floors, wiring, and things that go in and out of the walls."
Rosenbaum noted that at any sheathing edge that doesn't abut another piece of sheathing – for example, sheathing adjoining a rough opening or sill – needs to be sealed to the framing. To tape sheathing seams, Rosenbaum has used Vycor Plus for walls and W.R. Grace Roof Detail Membrane for roofs. (Since roofs get hotter than walls, they need tape with different specifications.) However, Rosenbaum has concluded that the Huber Zip System is faster and less expensive than using peel-and-stick tape.
Although it's possible to use closed-cell spray polyurethane foam as an air barrier on the interior of the sheathing – using the so-called "flash and batt" or "flash and cellulose" method – there are drawbacks to this approach. It's sometimes hard to maintain perfect access to all necessary areas that need to be foamed; spray foam is tricky to apply in cold weather; and spray foam can't address some common air leakage locations (for example, between the subfloor and bottom plates).
Memorable quotes
Rosenbaum sprinkled his presentation with interesting observations and useful advice:
"You could have the builders caulk the sheathing when they put it up. The only problem with that is I can't tell if they did it or not."
"I'm nervous about rigid foam and tape, because the foam moves."
"Peel-and-stick tape on OSB doesn't work without a primer."
"I don't use the Huber Zip System without a housewrap, and I don't use foam as a WRB. I do not believe that housewrap is an air barrier."
"It's hard to use spray foam in really cold weather. If it's zero degrees out, you don't want them spraying against your sheathing."
"You can always add more insulation on the outside of the sheathing to keep it warmer."
"Cavity fill insulation must be very resistant to air movement. I prefer dense-packed cellulose. I am nervous about interior air going through fiberglass."
"There are probably more infrared cameras being sold than there are people who know how to use them."
Excellent results
Rosenbaum's exterior air barrier details have achieved impressive results. On Martha's Vineyard in Massachusetts, Rosenbaum specified the Huber Zip System on an 8-unit residential project designed and built by the South Mountain Company. According to Rosenbaum, the single-family homes tested "Passivhaus-tight."
Rake and eave overhangs are tacked on later. At this affordable housing project on Martha's Vineyard, employees of the South Mountain Company framed the house without any roof overhangs. Once the framing was covered with Zip System sheathing, the seams were taped. After the integrity of the air barrier was verified, framing pieces were installed to extend the roof at the eaves and rakes.
Establishing the air barrier at the attic deck instead of the roof. John Brooks, an architect from Dallas, Texas, likes the idea of using wall sheathing as an air barrier, but prefers to leave his attics unconditioned. He is working on details to connect an air barrier at the attic deck with an exterior air barrier at the wall sheathing.
Vent channels above the insulation. Architect John Brooks calls this a "detail in progress," and suggested that it be posted "for discussion, not construction." When it was pointed out that the "prefab plywood baffles" appear to be very awkward to install, Brooks responded, "I agree."