How to Fix a Sagging Beam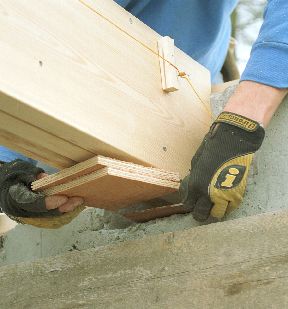 Pboneox1 has been assured by an engineer that a built-up beam made from 2x12s is strong enough for the job, but he's noticed the beam has deflected over its 16-ft. span by 3/4 in. The beam is over what will become a kitchen, and it will support the joists of the floor above.
"I am trying to figure out what I should do," pboneox1 writes in Fine Homebuiding's Breaktime forum. "I guess it is possible that it was just crowned improperly and it will not have any problems going forward, but I am not sure I am OK with just leaving it since I am installing a kitchen underneath it."
The beam, made by nailing four 2x12s together, runs from an exterior wall to a block wall inside the house, pboneox1 says. Any ideas on how to straighten it out?
Is the beam really beefy enough?
The engineer's cacluations notwithstanding, BossHog doubts the beam is deep enough for a 16-ft. span.
"The general rule of thumb for a beam is one inch of depth for each foot of span," he writes. "So your 2×12 beam is pretty thin to start with."
BossHog also wonders about some of the assumptions that went into the calculations.
"You say he [calculated] the beam and it had 3/4-in. deflection in it," he writes. "Is that live load deflection, or total load deflection? Big difference. Also, what loading did he use? Some only use a 30-lb. live load for 2nd floor sleeping rooms in order to skimp by."
DoRight points out that beam depth is more important than beam width.
"The resistance to bending goes up by the SQUARE of the depth," he says. "A 2×12 has about twice the bending resistance as a 2×10. So going from three 2x12s to four does not do as much for you as one might think…
"That said, I am amazed how strong wood is. I know of a 16-ft. garage door header made of two 2x12s and 1/2 [-in.] plywood, which supports the ends of 26-ft. spanning trusses. This is in heavy snow load country as well. It does have a sag in it (not measured it) probably 1/2 to 1 in. Pretty amazing. Four 2x12s would be nearly 72% stronger in resistance to bending. I suppose one difference is the floor beam is largely dead load and the garage header has to handle a fair dead load and a significant (temporary) live load."
A jack might remove the sag, but be careful
One possible solution, Pboneox1 writes, would be jack up the beam to eliminate the deflection, reinforce it with a 1/4-in. by 11-in. steel plate on each side, and bolt the assembly together. "It would be like a giant double flitch plate beam," he says. "Any thoughts on this plan?"

"On a side note I was thinking of framing the beam in old barn wood so it looked like a actual exposed beam once I figured this out and that would be easier to do if it were straight," he adds.
Run your plan by the engineer, Florida suggests, adding, "If not and it were my home I'd pull it out and install a steel beam."
And, says Calvin, jacking the beam straight may not be as simple as it sounds.
"First, you need a secure, firm, well supported place to put the jack," Calvin writes. "It is always possible to jack down the area below what you want to jack up. And, slow and easy with monitoring all the points of connection up, down and around is something you should be aware of.
"I've seen cases where the deflection was a poorly crowned joist or beam and jacking the middle to remove the dip, ended up lifting both ends. Work your way up from below what you intend to lift and take all precautions necessary to do as little damage correcting the problem."
Oldhand, who thinks the best plan may be to leave the beam as is, wonders whether a well-seasoned beam of that size would be flexible enough to be straightened out by jacking.
"My guess would be that would actually weaken the beam itself," he says.
 Add shims to take out the sag

 If the beam is indeed strong enough, some sagging should be expected over a span of 16 ft., DanH writes.
"When I replaced the sagging double 2×14 beam over my garage door with doubled 13-in. microlams I first let the load down on the beam, measured deflection, then raised the load again and inserted shims to compensate," DanH writes. "I believe it was about 1/2 in. in 16 feet, with just a roof load overhead.
"(As a result, I have the only garage in the neighborhood where the garage door opening isn't visibly sagging.)"
Then again, just about everything sags a little over time, including us.
"I've been trying to stop the sag for about 20 years now," DanH adds. "It ain't working."