Patrick's Barn: Taping Drywall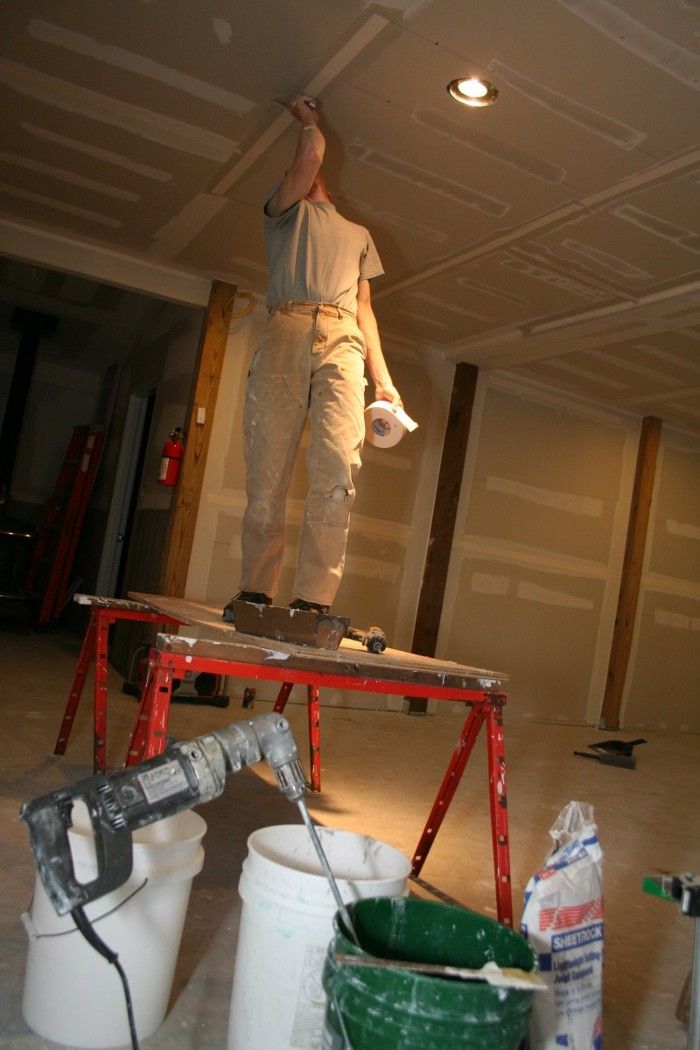 Thinking about the self-taught methods I used for taping drywall when I was a teen and twenty-something now makes me cringe. I used ready-mix compound (sometimes lightweight) that I pulled straight from the bucket without mixing. I also used mesh tape because bedding paper tape in a layer of compound seemed like a waste of time.
But living with my early drywall projects revealed problems with both my materials and my methods. I found that mesh tape is easily cut by taping knives, that it shows through the surface (telegraphs) under glossy paint, and that it doesn't produce nice, straight inside corners. I found that lightweight compounds damage easily and have a finished surface that looks different from drywall under even relatively low-sheen paint.
My methods changed when I learned how pros tape drywall. My current taping method, which I learned from a web forum, uses lightweight, setting-type compound that I mix in half-bag batches with a drill-mounted paddle. I marked the inside of a 5-gal. bucket to indicate 5 pints, which is more or less the appropriate amount of water to mix with half a bag of compound. I make half-bag batches because that's the maximum amount I can use before the compound, which sets chemically rather than by drying, is too hard to work.
To measure the right amount of compound, I flatten the bag, evening out the powdered compound as best I can, and then I fold the bag in half. I always add the compound to the water, which makes mixing easier and more thorough. Easy-Sand 90, the compound I'm using, has a working time of about 60 min. After that, it's too hard to spread easily. When it starts setting up, I use what's left on the corner bead that covers outside corners and that surrounds the barn's doors and windows. These areas require a lot of compound. I've seen compound with a longer set time described in manufacturer's marketing materials, but nobody in Connecticut stocks it.
Mixing the compound and rushing to use it up before it hardens may seem like a lot of trouble, but the results are worth it. Setting compound shrinks less and is better at resisting dents and scrapes. I now use paper tape for seams and corners because it makes straight corners, it's stronger, and it costs much less than mesh tape. Something that works better and costs less is a refreshing change.
I've put in about 16 hours on this first coat. I'm trying to do one batch every day, which takes me between and 1-1/2 and 2 hours. I'm guessing I have about 3 or 4 more hours to go on this first coat.
You can read more about my barn here.
I prefer paper tape for seams and inside corners. Paper tape is stronger and makes straighter inside corners than mesh tape. My setup for mixing mud is in the foreground.
I love my 12-in. stainless-steel mud pan. Plastic and galvanized pans are harder to clean, and the metal strips along the top edge of plastic pans are soon lost or rusty. The stainless-steel version ($20) has proven to be a wise investment.
I also really like this 6-in. stainless-steel taping knife. It's easy to keep clean, and the radius edges fit well in inside corners. A strip of compound over fasteners prevents the fuzzy paper caused by sanding.