How-To
Second-Story Balconies
Builders with clients who request a second floor balcony have to figure out durable details that will support people and railings.
Returning home from a visit to France or perhaps from a local production of Romeo and Juliet, many romantics vow, "My next bedroom will have a balcony." Builders with clients who request a second floor balcony have to figure out durable details that will support Juliet and her railing. For years, some designers have created second-floor balconies by cantilevering floor joists (or a floor slab) through the thermal envelope of the building. However, there are two serious problems that are associated with following this practice: thermal bridging and moisture management.
Thermal bridging and moisture risks
Some builders address the wicking problem by installing plywood on the exterior deck, followed by a waterproof surface material such as fiberglass. This works better than deck boards with drainage gaps, but it still leaves a tricky problem at the door threshold. Because the cantilevered joists guarantee that the interior flooring and the balcony deck are at the same level, it's hard to prevent rain and snow entry. The best water-management details call for a balcony or deck to be one step lower than the interior flooring—an impossibility if the joists are cantilevered.
Like a deck, without posts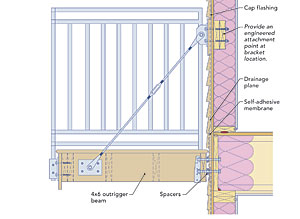 Steve Baczek, Architect
A balcony not cantilevered will likely have a ledger similar to a deck. Best practice is to space the ledger away from the sheathing to allow for drainage and to flash diligently to keep moisture from penetrating the house. The far end of the balcony could be supported by posts that bear on footings, but a more traditional aesthetic is achieved with metal rods, cables, or brackets. All three options can be as utilitarian or as decorative as you'd like, but they should be engineered for safety.
Cables, brackets, or piers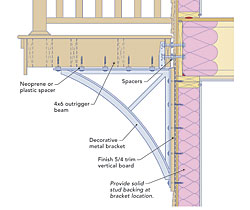 Support from below with brackets. Steve Baczek, Architect
Because cantilevering floor joists is foolish, how should your deck be supported? For the sake of simplicity, let's assume that we are talking about a rectangular balcony. There are two possible ways of supporting the two corners of the balcony adjacent to the building: You can install a conventional deck ledger that is attached to the building, or you can support the corners on posts that bear on footings, like a freestanding deck. When it comes to the two corners of the balcony that are farthest from the building, you have three choices: You can hang the corners from the building with diagonal steel rods or cables, you can support the corners from below with diagonal wooden brackets, or you can support the corners on independent posts, like a conventional deck.
Steel balconies are energy smart. Cantilevered concrete, not so much
Several manufacturers—including Metalcraft (metal-craft.net) of Pensacola, Fla., and Timmerman Manufacturing (timmermanmfg.com) of Conover, N.C.—design, engineer, manufacture, and sell prefabricated steel balconies supported by structural brackets. This type of balcony also likely can be ordered from your local welding shop, though you may need to have it designed by an engineer. Because metal balconies hang outside the building envelope, they are an energy-smart approach to this detail.
Concrete is a conductor, not an insulator, so you'd have to be crazy to propose cantilevering a floor slab through a building's thermal envelope, right? Sadly, however, cantilevered concrete-floor slabs without thermal breaks are extremely common in the United States. The cantilevered-slab approach is the most common method of detailing balconies in commercial buildings and many multifamily housing units.
If the look of a wood-frame balcony is not for you, stick with steel.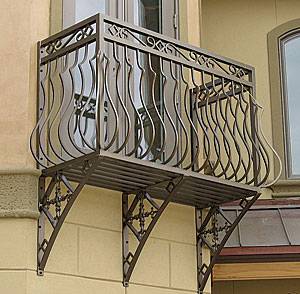 A balcony from Metalcraft. This powder-coated metal balcony was custom-engineered and built by Metalcraft. The metal brackets below the balcony are load-bearing, courtesy of Metalcraft.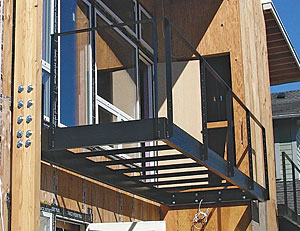 Custom steel frame. The designers of TrekHaus, a Passive House duplex in Portland, Ore., specified a steel frame to support the building's second-floor balconies in a way that doesn't compromise the thermal envelope. The steel frame was designed by engineer Jerome Madden and was fabricated by a local welding shop, Aaron's Custom Metal Fab, courtesy of Randy Hayslip/ PDX Living LLC.
More details
Some of these details are new to Green Building Advisor's energy-smart collection. GBA Pro members get full access to the detail library, which contains almost 2500 details on building better, tighter, more energy-efficient houses. Go to GreenBuildingAdvisor.com/detail-drawings to browse through the collections.