How to Insulate Your Rim Joists
Use spray foam or rigid foam to insulate and air-seal this commonly ignored part of the house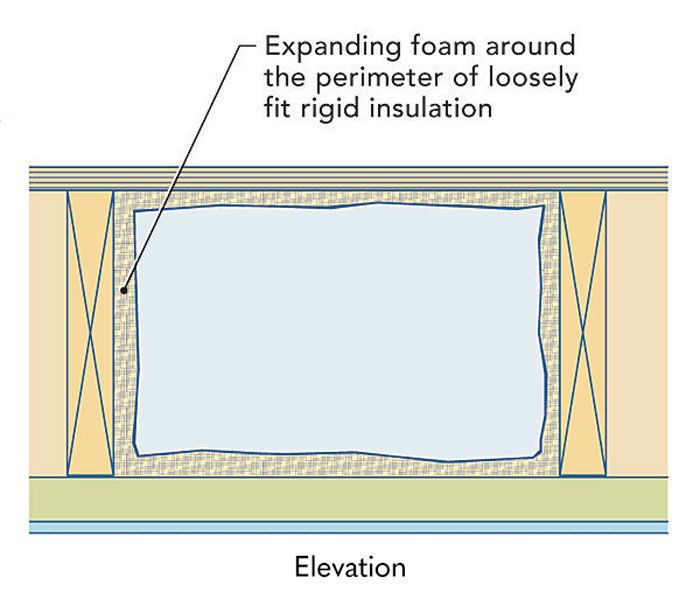 If you want to improve the energy performance of your house, you should probably start by air sealing and insulating your attic. On many older homes, this work was done poorly, or not at all, and it will have more of an impact on your energy consumption and utility bills than most other energy upgrades. Next, look for the big air leaks, and seal them. For example, chases and soffits are often acting as chimneys that exhaust the conditioned air that we want to keep in our homes. This is easily remedied with some air sealing work. You can take a look inside your walls, to see what type of insulation you have, and consider a retrofit. And you can head downstairs and air seal and insulate your basement. This work will likely include upgrading the insulation at the rim joist.
In older homes, rim joists (also called band joists) are often uninsulated, even though the only materials that likely separate them from outdoor air are sheathing and siding. Rim joists are above grade, so it makes sense to insulate the joists to the same level as above-grade walls. At the rim joist area, many building components come together—the foundation wall, the mudsill, the rim joist, the subfloor—so it's also important to seal all cracks against air leakage.
The time-honored practice of insulating rim joists with fiberglass batts is no longer recommended. Because fiberglass batts are air permeable, they do nothing to prevent warm, humid interior air from contacting the rim joists. During the winter, when the rim joists are cold, condensation can cause mold and then rot.
To prevent these problems, only air impermeable insulation—either rigid foam or spray polyurethane foam should be used to insulate the interior of a rim joist. Two-story homes usually have another ring of rim joists above the first-floor ceiling. If you need to insulate these rim joists, it's best to hire a cellulose-insulation contractor.
Rigid foam is affordable
If you're ready to insulate the rim joists in your basement or crawlspace, you have to decide between rigid foam and spray foam. Using rigid foam keeps the material costs low, but it also requires more labor than using spray foam. Rigid foam also has a few other downsides: Compared to spray foam, it's harder to install in awkward areas (for example, in a tight space where a rim joist is close to another parallel joist). Rigid foam is also fussy to install if the rim joists are the site of lots of wiring and pipe penetrations.
Any of the three common types of rigid foam—polyisocyanurate, expanded polystyrene (EPS), or extruded polystyrene (XPS)—can be installed against a rim joist. Polyisocyanurate is considered the most environmentally friendly of the three foam types; it has an R-value of between R-6 and R-6.5 per in. In colder climate zones, it's a good idea to install at least 3 in. to 4 in. of rigid foam, either in a single layer or in multiple layers. (For a less pricey approach, you can install 2 in. of rigid foam and a layer of fiberglass insulation.) In warmer climates, 2 in. of foam may be enough.
To ensure that humid indoor air won't reach the cold rim joist, the crack at the perimeter of each piece of foam (and at any penetrations) should be sealed with caulk or canned spray foam. If you use canned spray foam, you may want to buy a few lengths of flexible vinyl tubing with a slightly larger diameter than the plastic nozzle that comes with the can. This will make it easier to reach awkward corners. Discard the vinyl tubing when it gets clogged.
Spray foam insulates and seals
One advantage of using spray foam to insulate rim joists—an approach sometimes called the critical-seal method—is that a single product performs two tasks: sealing air leaks and insulating. In mild climate zones, either open-cell spray foam or closed-cell spray foam will work; however, in climate zone 6 and colder zones, it's safer to use closed-cell spray foam.
Unless you hire a spray foam contractor for the job, you'll probably be buying a two-component spray-foam kit. These kits are available at most lumberyards; expect to pay from $320 to $360 for a 200-bd.-ft. kit. If you want to install 3 in. of foam in an area that measures 1 ft. high by 130 ft. long, you'll need about 400 bd. ft. of spray foam. Once cured, this type of spray foam has an R-value of about R-6.5 per inch. (Most two-component spray-foam kits use closed-cell foam.)
If your basement is cool, store a spray foam kit in a warm location for 24 hours before you begin. Be careful; uncured spray foam is messy. If you get uncured spray foam on your skin, you won't be able to wash it off. If you get it on objects in the basement, the foam may be impossible to remove. Before spraying, clear movable objects from the work area, and use a tarp to protect things that can't be moved. Wear a respirator, rubber gloves, goggles, a cheap hat, and either a Tyvek suit or old clothes.
Seal rigid foam in place
Fiberglass batts should never be installed near a rim joist unless the rim joist is first insulated with at least 2 in. of rigid foam or spray foam. The edges of each piece of rigid foam should be carefully sealed with caulk or canned spray foam. If you're using canned spray foam, you'll find that wide cracks are easier to seal than narrow ones, so it's a good idea to cut the rectangles a little small.
Hit everything with spray foam
To create an effective air barrier, spray foam should extend from the top of the concrete all the way to the subfloor. For good thermal performance, the foam should cover all of the exposed concrete at the top of the wall.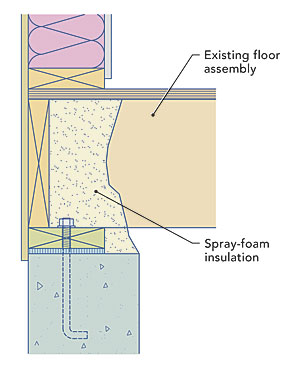 Don't forget the garage rim
If the floor assembly penetrates the air barrier between a house and an attached garage, rectangles of rigid foam should be installed between each joist to prevent air leaks. Each rectangle needs to be sealed at the perimeter with caulk or canned spray foam.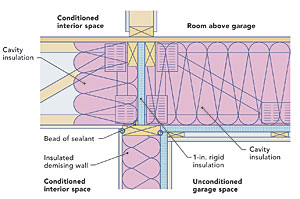 What the code says
Most building codes require rigid foam to be protected with a layer of 1⁄2-in. drywall as a thermal barrier. The drywall can be screwed to the rim joist through the foam.
Dow Thermax polyisocyanurate, one type of rigid foam, has a facing that has passed fire-safety tests. That means that most building inspectors don't require Thermax to be protected with a drywall layer, making it a good choice for this application.
Spray-foam requirements differ from those for rigid foam. As long as your cured spray foam is no thicker than 3-1⁄4 in., the International Residential Code (IRC) allows spray foam at the rim joist area to be left exposed, without any protective drywall. The relevant provisions can be found in section R314.5.11 of the 2006 IRC and in section R316.5.11 of the 2009 IRC.
More details online
Some of these details are new to Green Building Advisor's energy-smart collection. GBA Pro members get full access to the detail library, which contains almost 2500 details on building better, tighter, more-energy-efficient houses. To browse through the collection, go to GreenBuildingAdvisor.com/detail-drawings.
Drawings: Steve Baczek, Architect. Photo: courtesy of Emercor.