How-To
Video Series: Install a Stair Rail
Constructing attractive, safe, and code-compliant staircase handrails takes careful planning, but is a task that anyone with basic carpentry skills and a well thought-out plan can tackle.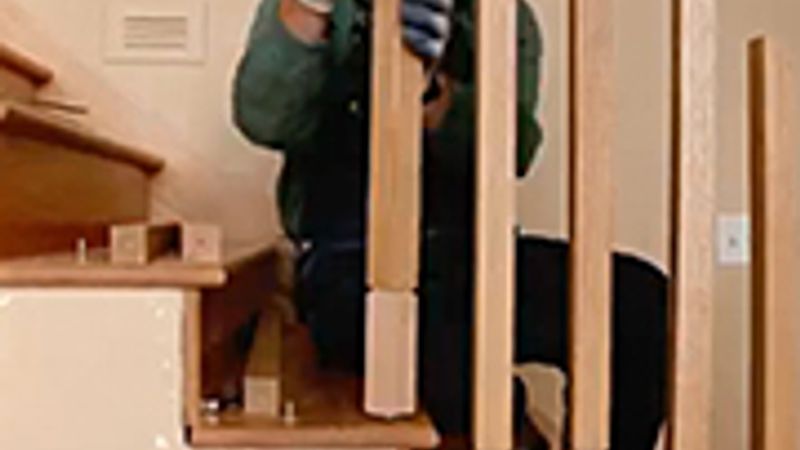 Synopsis: In this video series, finish carpenter Chris Whalen shows us how to fix this staircase's major aesthetic and safety flaws, demonstrates what should have been done the first time, and shares a few nifty tricks for fixing some really bad blunders.
---
Video Transcript: Installing handrails for a staircase is the finished carpentry project that requires careful planning to ensure that the handrail will be the proper height, that the balusters will have the proper spacing, and that the trim elements join in a way that pleases the senses, instead of offending them. Yet for all the complexity, any normal person with basic carpentry skills and a well thought out plan should be able to successfully install handrails.
The FUBAR Chronicles. The situation you are about to witness is true. The name of the contractor has been withheld for security reasons. If you have a weak stomach, you may not want to look.
That brings us to the staircase. The poor sod that originally contracted to do this job was obviously in way over his head. He failed to ensure the guardrail height was sufficient. He failed to properly space the balusters, creating a hazard for small children. His attempts at trim joinery were pathetic. And finally, when he realized he was a worthless hack he walked off the job leaving the handrail unfinished.
Unfortunately, the homeowners had already spent their life savings and couldn't afford the staircase rebuild with all new parts. They needed a carpenter who could reuse whatever possible, be creative about solving problems, and cut them a break on his normal rate.
We found just the person for the job. In this video series, we are going to bring in Chris Whalen, a finish carpenter from Missoula, Montana, to show us how to fix some major aesthetic and safety flaws from the previous carpenter. Along the way, Chris will show us what should have been done the first time, as well as a few nifty tricks for fixing some really bad blunders.
Just a few of the things you will learn, are how to establish and install a handrail at the proper height, how to locate and install a newel post, and how to rebuild a guardrail step by step. We will also show you how to fix an outer plumb newel, and sure up the attachment to the stairs. Finally, we'll tackle the skirt board that was so badly loused up by the original carpenter that it will require all of Chris' creative talents to put it right again.
And by the way, if you recognize this job as yours, then know that the FUBAR Patrol is on your trail.  
Videos in this members-only series: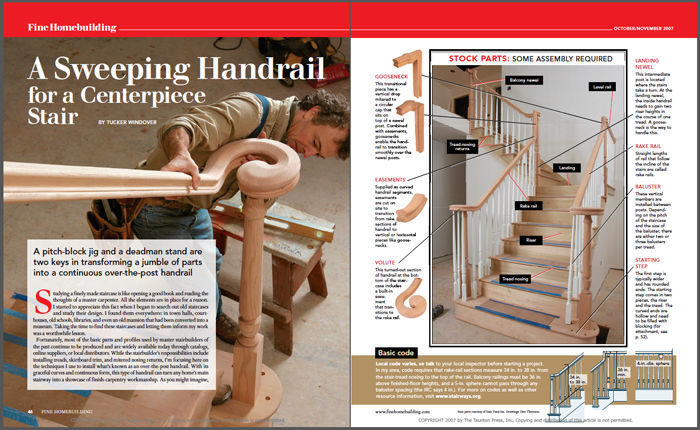 For the companion article, "A Sweeping Handrail for a Centerpiece Stair," click the View PDF button below. 
View PDF