How to Avoid Sloped Stringers on Deck Stairs
Lumber shrinks, so adjust your stair-stringer layout to allow for the wood to shrink along its width.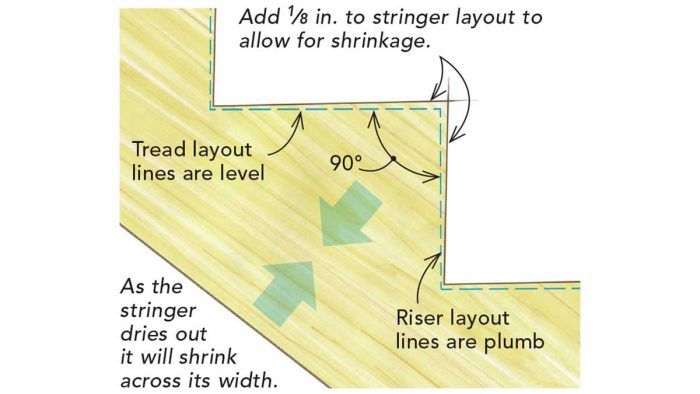 When I build stairs with cut stringers, especially for a deck, I often go back later and discover that all of my treads are sloping forward, after I've very carefully built them level. How can I avoid this?
—Liz Ashbury via email
John Spier, a builder on Block Island, R.I., replies: Assuming the landing surface has not sunk, nor the deck surface heaved, the reason this happens is that most lumber shrinks. This is especially true of wider boards like the 2x12s usually used for stringers. Decks are the worst because most PT lumber is green and wet and shrinks a lot. The best cure is to use material that doesn't shrink. I've seen people laminate stringer stock from layers of plywood, but I just use LVLs. For decks, you'll want to choose an LVL that's rated for outdoor use.
In the past, when the budget or expediency required me to use dimensional lumber, I laid out the stringers with a framing square just like any stair, with the treads level and the risers plumb. But then, I cut both the riser and tread side of the notch slightly out of square by the amount I estimate that the stock will shrink, which can be something near 1⁄8 in. if the wood seems damp up to 1⁄4 in. if it is still soaking wet. Remember that the lumber will shrink from the edges to the center, so only half of the total shrinkage affects the cut stringers.
From Fine Homebuilding #310
---
RELATED STORIES
Previous:
Framing Stairs to an Out-of-Level Landing
Next:
Securing Deck Stair Treads