Deep in the Heat of Texas
Insulation, air-sealing, and efficient mechanicals keep this house comfortable in the hot, humid weather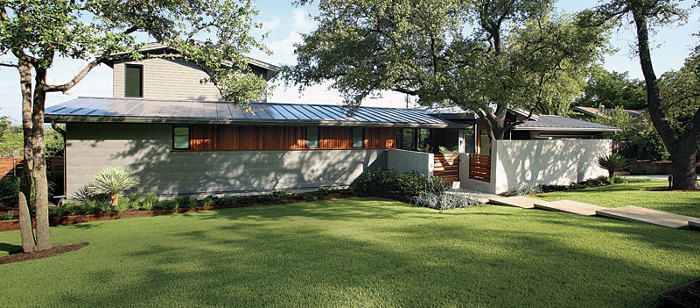 In Central Texas, most houses are built with slab-on-grade foundations, which often means that the air-conditioning system is located in the attic. If the attic is outside the conditioned envelope, the air conditioner is moving 55-degree air through a space that can get as hot as 130 degrees or more. In this article, builder Matt Risinger explains how his company turned one of those inefficient houses into a comfortable, efficient, and durable home.
They began by gutting the interior down to the studs and stripping off the siding. To achieve R-18 walls, they sprayed open-cell foam in the stud bays and installed a layer of polyiso foam, which also prevented thermal bridging. They brought the air-conditioning system within the conditioned space by insulating the attic roof in a similar way: open-cell foam in the rafter bays and polyiso foam on the exterior.
The R-value of the new roof is R-40. For maximum efficiency, the house has an HVAC system based around a dehumidifier that removes moisture from outside air before it's processed by the air conditioner on the first floor and the minisplit on the second. Those two units then don't have to work as hard. The result of this work is an annual energy bill that's about half the size of the typical bill for a code-compliant home in the area.
For more photos, drawings, and details, click the View PDF button below:
View PDF